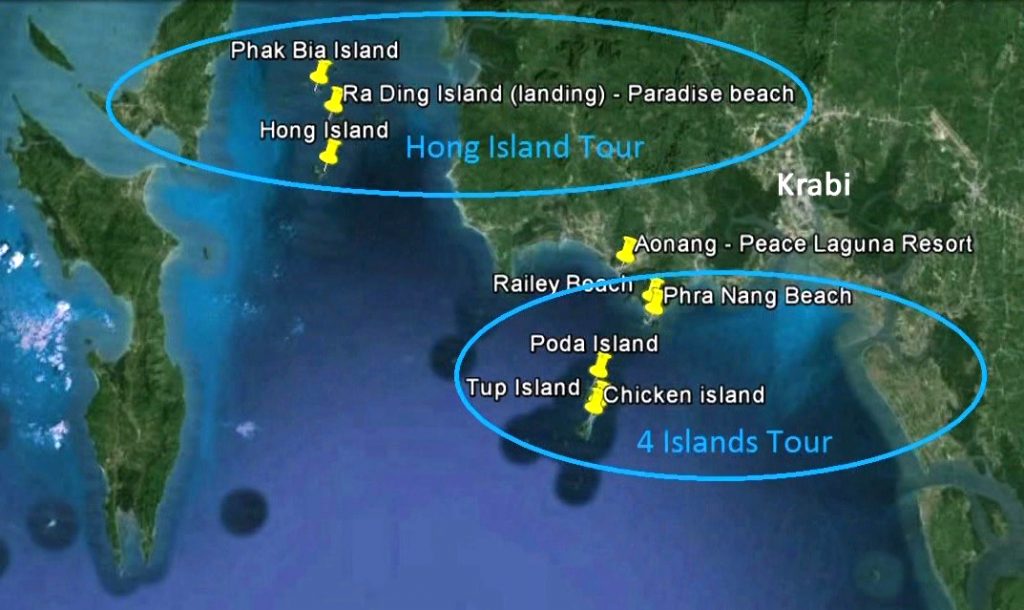 Ao Nang is a resort town near Krabi. To get there from the airport, either pre-book a 'limo', or take the local bus which departs from the airport. 
There are lots of hotels you can book on the Internet. I prefer to stay close to where the longtail boats leave for the islands. Next time I want to spend a few nights at Railey beach, which is a short boat ride from Aonang. From there you can walk to the Pra Nang Beach.
There are several boat tours to different islands. Paying a little extra for speed boats gets you to the more distant islands, quickly, like Phi-phi islands. To Railey you can take a longtail boat.
Re-visiting

Ao Nang


February 2017
After half a year of unemployment at an age of 62, I flew down to Krabi one week after I signed a contract for a new job. I was going to start a week later, and I needed to get away to relax after a frustrating period. I booked tickets a few hours after signing the contract, and left for Thailand a few days later.
The last minute hotel was OK, and I enjoyed Aonang and the nearby islands.
During my latest visit to Aonang in February 2017, I booked a diving trip to an area near Phi-Phi Islands. We dived on 'Shark Reef' and 'Anemone Reef'.
I filmed with my video camera above water, and a Swedish dive buddy was kind to let me have a copy of his underwater video. I edited some of his scenes into my video, and here is the result.
By long-tail boat to

Railey Beach


February 2017
The

easiest way to get there

is to go by local long-tail boat. You simply buy a ticket at the ticket office near the boats, and they will point you to the first one to depart.
Railey Beach is located on the West side of the Railey peninsula. If you walk across to Railey East you can follow a path along the cliff and reach Phra Nang Beach and cave on the outside of the peninsula. 
You can take long-tail boat directly to Phra Nang Beach from Aonang.
The beach in Aonang had changed, so I chose to take boat rides to other places. We had been to the Hong Island and smaller islands four years earlier, and I decided to go again. 
There were more tourists in Fabruary than in middle of December, and the beaches were more crowded, but it was still a very nice tour.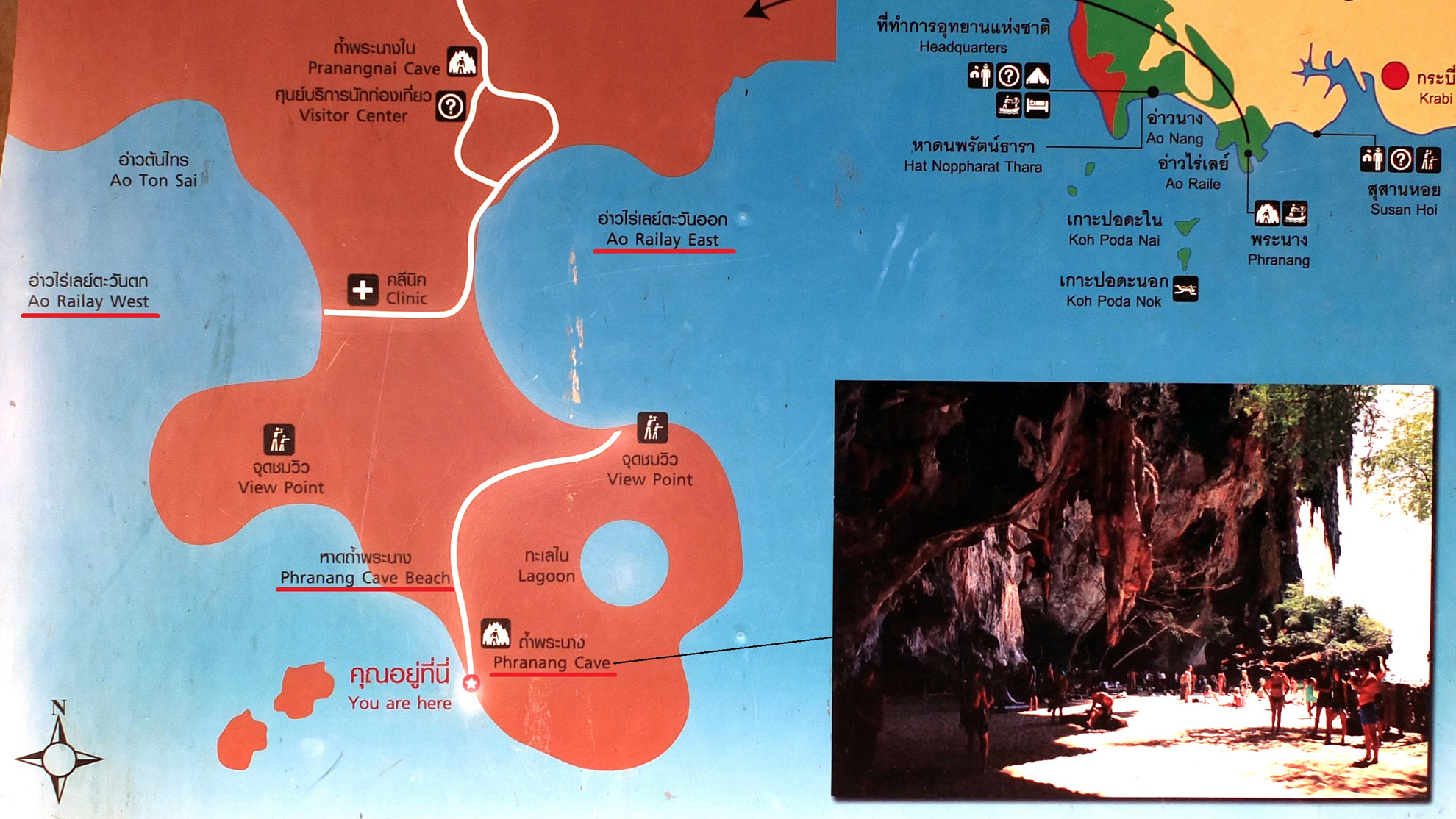 In Flickr; click on the slide show button ("TV symbol") in the upper right corner
Railey Beach and Phranang Cave/Beach Photos, February 2017
Take a longtail boatd from Aonang to Railey West or Phranang Beach. Here you will find clear waters – not like the sandy (dirty looking) waters in Aonang. 
There are several hotels between Railey East and West, and in between there are pathways. If you take the "shopping street" from Railey West you can continue all the way to Railey East where there are no beaches to swim. Here is where the hotel boats arrive. At low tide half the bay is almost dry. Tractors drive out to the water edge to pick up tourists and luggage.
If you continue along the cliff you get to the Phranang Beach and cave. This is the best beach closest to Aonang. There are boats selling food and drinks if you plan to stay the whole day, or you can eat at one of the restaurants' bars.
Hong Island Tour & Railey Beach
December 2013
During my first visit to Aonang in December 2013 we booked several boat trips to islands. 
This video is from a "Hong Island" trip where we visited 3 islands: Phak Bia Island, Ra Ding Island and Hong Island. 
The second part of this video is a day-trip by longtail-boat to Railey Beach.
4-Islands & Phi-Phi Island Diving
December 2013
During the same visit we also booked a "4-islands" tour. The islands we visited were: Poda Island, Koh Kai (Chicken Island), Tup Island and Phra Nang Cave at Railey (which is a peninsula, and not an island).
Also in this video I included a diving trip to Phi-Phi Islands with my daughter. I did not have an underwater camera, but I got a copy of some low quality video from a German diver, from which I could use a few scenes. He filmed us entering the water.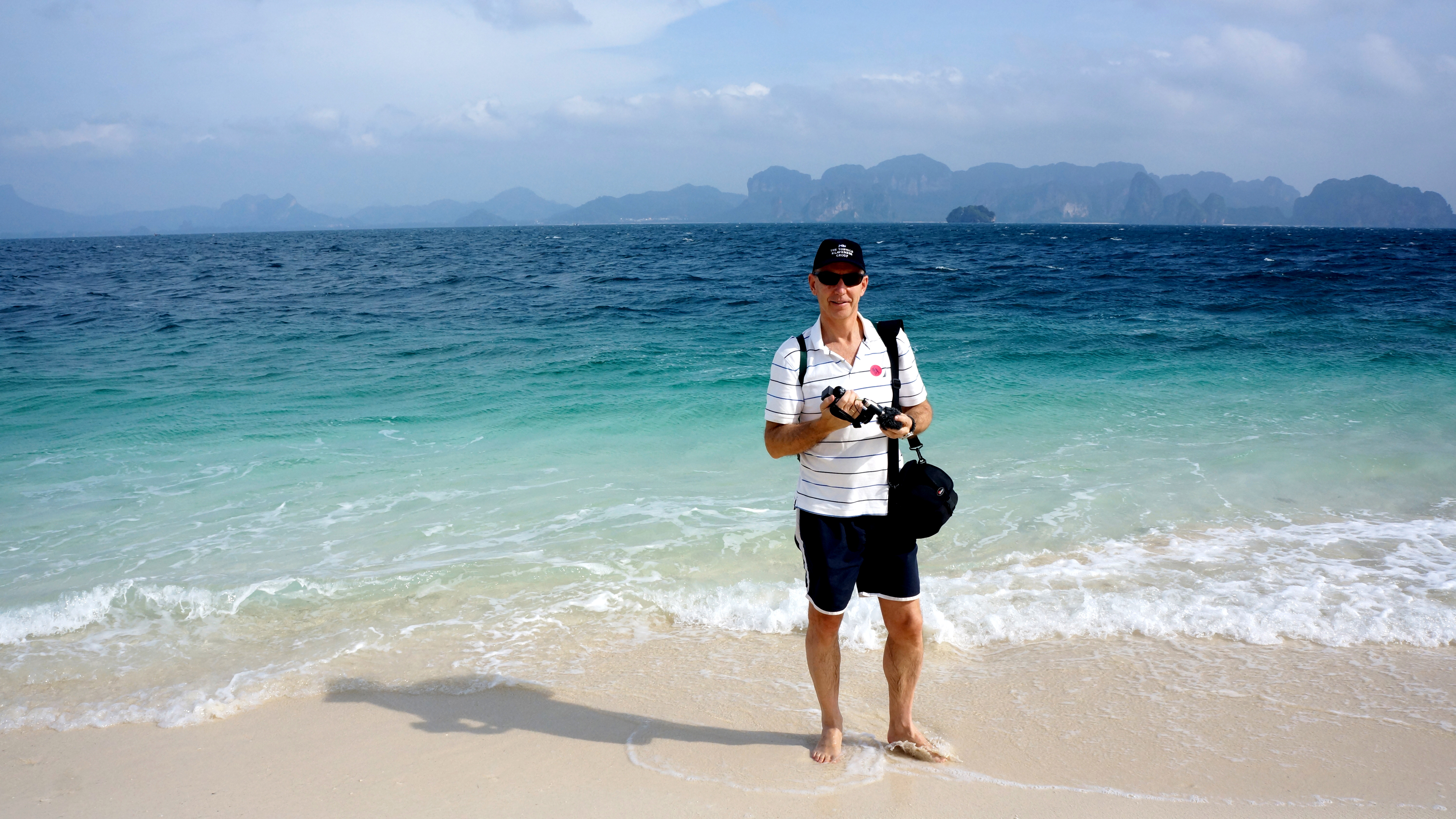 In Flickr; click on the slide show button ("TV symbol") in the upper right corner
Aonang/Krabi, December 2013
Ten-day tour to Aonang, staying in the Peace Laguna Resort. Pleasant days on the beach, and nice evening strolls along the beach boulevard.
Excursions to the islands: "4-islands" tour, and  "Hong Island" tour, visiting several islands one each tour.
On my daughter's birthday I took her on a diving tour to the Phi-Phi Islands.