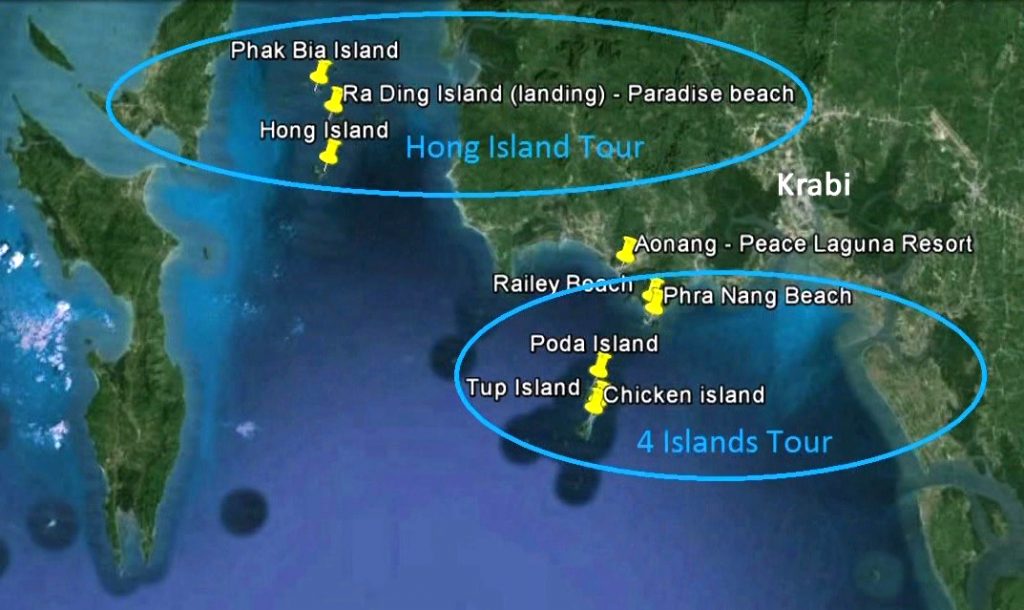 Ao Nang is a resort town near Krabi. To get there from the airport, either pre-book a 'limo', or take the local bus which departs from the airport. There are lots of hotels you can book through Internet. I prefer to stay close to where the longtail boats leave for the islands. There are several boat tours to different islands. By paying a little extra for speed boats you get quicker to the more distant islands, like Phi-phi islands. To Railey you can take a longtail boat.
Another time it would be nice to spend a few nights at Railey beach, which is a short boat ride from Ao Nang. From there you can walk to the Pra Nang Beach. There are also temples and hot springs to visit in the Krabi area.
I have visited Ao Nang in 2013, 2017 and in 2023.
Re-visiting

Ao Nang

– Evening
January 2023
After a safari in Tanzania in November, where my travel agent was not able to extend my trip with a week in Zanzibar, I decided I wanted a relaxing week in Thailand – away from winter and snow/rain. I booked a charter tour to Ao Nang, a resort town I like, with short boat tours to beaches and islands with white sand and crystal clear water.
Ao Nang center was the same, but the number of tourists were doubled. Several new hotels had been built. I stayed in a comfortable B&B hotel in the center – not far up the road from the beach, near the 'bar street' – The Verandah Hotel.
This video is from an evening walk in Ao Nang with fire show and street food.
Railey & Phra Nang Beaches are just a short longtail-boat ride from Ao Nang. The boats arrive at the Railey West beach. From there I followed the bar/restaurant sandy road across the peninsula to Railey East. The path along the cliff to Phra Nang passes a steep climb to a viewpoint. I climbed up and walked through the jungle to the viewpoint, but I turned half-way down the other path to the 'lagoon' (lake) because it was to slippery, warm and very steep. Back down I continued along/under the cliff to the Phra Nang cave and beach. I walked the beach and swam in the warm waters before returning to Railey West to relax in a bar and on the the beach.
Hot Springs and Emerald Pool
January 2023
One hour drive East – South-East from Aonang/Krabi there are many springs. We stopped at a hot spring with hot water ranging from 42 deg.C to 35 deg.C. After bathing in different temperature pools we continued to a jungle site nearby called Emerald Pool. There we could follow an 800 meter path to the Emerald Pool, where we could bath, or walk the scenic 1000 meter artificial path to the pool through the jungle. Another 800 meter path led to a Blue Pool. At the parking area at the entrance there are shops and restaurants.
Tiger Cave Mountain Top Temple
January 2023
About half an hour drive north of Krabi, at one of the mushroom shaped mountains that are typical for the area, there is a famous temple area with a cave where a tiger is said to have lived and roamed together with a monk.
I did not have time to visit the cave, but climbed the 1260 steps up to the temple with its large Buddha statue 300 meters above the cave. In 30 deg. C very humid heat it was exhausting, but the stairs were luckily in the shade. The view from the top was fantastic, and the temple was interesting.
'4 Islands' Boat Tour by Speed Boat
January 2023
Re-visiting islands near Aonang/Krabi: Tup Island, Chicken Island and Poda Island + the Phra Nang Cave & beach (see also my Railey video above).
This year the sandbank between Tup Islands and Chicken Island seemed to be washed out and not so shallow as in 2013, and consisted more of pebbles than sand. The water in the snorkeling site on the south side of Chicken island was not very clear, so we snorkeled on the west side. Thereafter we continued to Poda Island where we had a picnic lunch. The tour ended with a visit ti Phra Nang beach/cave, but because of new restrictions our boat had to beach at Railey East, and we had to walk around the cliff to the beach/cave.
Re-visiting

Ao Nang


February 2017
After half a year of unemployment at an age of 62, I signed a contract for a new job. Before starting I needed to get away to relax after a frustrating period. A few hours after signing the contract I booked tickets, and departed for Thailand a few days later. The last minute hotel was OK, and I enjoyed Aonang and the nearby islands.
During my latest visit to Aonang, I booked a diving trip to an area near Phi-Phi Islands. We dived on 'Shark Reef' and 'Anemone Reef'.
I filmed with my video camera above water, and a Swedish dive buddy was kind to let me have a copy of his underwater video. I edited some of his scenes into my video, and here is the result.
By long-tail boat to

Railey Beach


February 2017
The

easiest way to get there

is to go by local long-tail boat. You simply buy a ticket at the ticket office near the boats, and they will point you to the first one to depart.
Railey Beach is located on the West side of the Railey peninsula. If you walk across to Railey East you can follow a path along the cliff and reach Phra Nang Beach and cave on the outside of the peninsula. 
You can take long-tail boat directly to Phra Nang Beach from Aonang.
The beach in Aonang had changed, so I chose to take boat rides to other places. We had been to the Hong Island and smaller islands four years earlier, and I decided to go again. 
There were more tourists in Fabruary than in middle of December, and the beaches were more crowded, but it was still a very nice tour.
This video includes my travel from Norway, through Bangkok to Ao Nang near Krabi. We  stayed at the Peace Laguna Resort & Spa. Ao Nang is a small town without too many tourists. It is located quite near several islands with coral beaches and crystal clear waters. Nearby is also Railey Beach with walking distance to the Phra Nang beach on the outside og the mountains. In the evenings we walked in the main street looking in shops, along the beach, and had dinner in one of the many restaurants.
Hong Island Tour
December 2013
During my first visit to Aonang in December 2013 we booked several boat trips to islands. 
This video is from a "Hong Island" trip where we visited 3 islands: First a visit to the Hong Island Lagoon, then a stop for swimming at Phak Bia Island, lunch at Ra Ding Island, and finally relaxing and swimming at the Hong Island beach.
Railey Beach Tour
December 2013
This video is a day-trip by longtail-boat to Railey Beach. We explored the small street on Railey West with restaurants, bars and shops, and crossed the peninsula to Railey East. From there we crossed back through the hotel area to Railey West. We walked all the way to the end of the beach to swim and relax, before returning to Ao Nang by longtail boat. 
4-Islands Tour
December 2013
Video from a "4-islands" tour where we visited: Poda Island, Koh Kai (Chicken Island), Tup Island and Phra Nang Cave at Railey (which is a peninsula, and not an island). 
The first stop was at Poda Island where we admired the crystal clear waters and had a swim. After a tasty lunch at Chicken Island we walked/waded the sandbank over to Tup Island, and swam in the crystal clear waters. 
Last stop was at the Phra Nang beach were we explored the caves.
Diving at Phi-Phi Islands
December 2013
I took a diving trip to Phi-Phi Islands with my daughter who was allowed an introduction dive (because of her similar dive in Zanzibar). On our way out an instructor went through diving hand-signs and theory with my daughter. 
I did not have an underwater camera, but I got a copy of some low quality video from a German diver, from which I could use a few scenes. He filmed us entering the water.