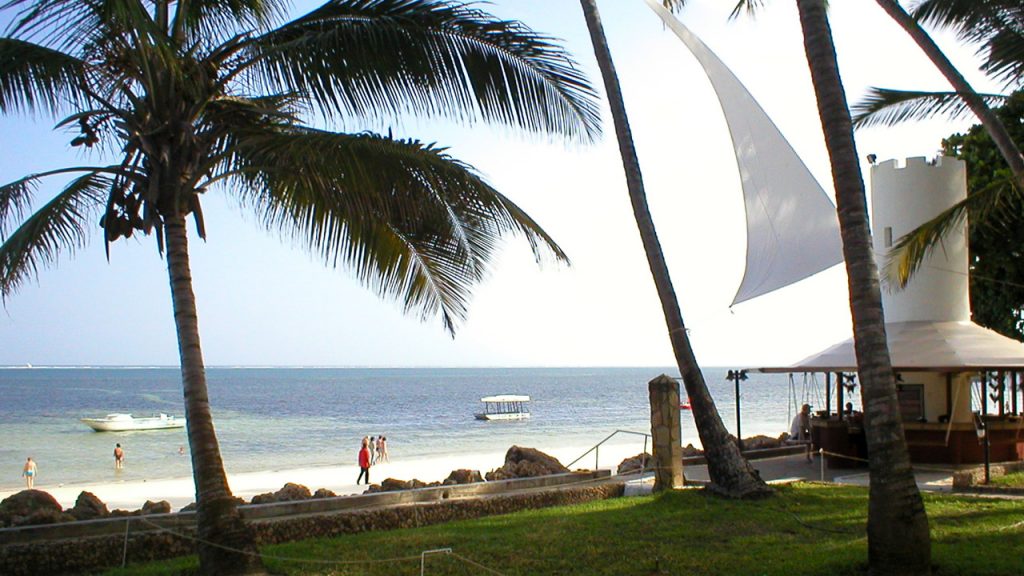 Mombasa is a coastal city of Kenya along the Indian Ocean. It is the country's oldest (circa 900 AD) and second-largest city (after the capital Nairobi), with a population of about 1.2 million. Its metropolitan region is the second-largest in the country, and has a population of 3.5 million people. Mombasa has an extra-large port and an international airport, and is an important regional tourism center. In 2018 the local government released an edict in which the city was painted white with blue accents and the old town was painted yellow. Mombasa area was settled a long time ago by African tribes, but later the following has ruled: Sultan of Mombasa Before 1593, Portuguese Empire 1593–1698, Imamate of Oman 1698–1728, Portuguese Empire 1728–1729, Imamate of Oman 1729–1824, British Empire 1824–1826, Sultanate of Muscat and Oman 1826–1887, British East Africa / Kenya Colony 1887–1963, Kenya 1963–present.
Mombasa, January 2004
Arrival at the

Severin Sea Lodge
After a Kenya safari with my mother, we flew from Nairobi to Mombasa on the coast. After a short drive we were welcomed at our hotel and got a nice bungalow room with a view to the pool and ocean beyond. 
After settling in we walked through the garden to the beach to have a dip in the Indian Ocean. We got welcome drinks by the pool. It was good to relax in a sun chair after driving from place to place during our safari, changing hotel almost every day. Nice hotel, good food and entertainment (see the acrobat show).
Mombasa, January 2004 – Acrobat Show
One evening after dinner there was an acrobat show. We had seen some of them exercise on the beach. A really good show! 
See acrobat school
Mombasa, January 2004 – Morning on the beach
Usually getting up before sunrise is not what we like best, especially when you have to go to work, but when staying near a tropic beach with warm water it is relaxing to walk in the soft sand with waves washing over your feet while watching the sun rise over the horizon.
Mombasa

, January 2004 – City Tour
We joined a tour to the city, entering through the famous elephant tusk portal. We left the bus and walked through a market area, and then through the old town. After seeing the harbour area we visited Fort Jesus. After visiting the fort's museum, we walked to the bus that was waiting for us in the Baobab tree park.
Mombasa, January 2004 – Wood Carving
As part of our city tour we visited 'Africa's largest hand-craft center' in Mombasa – the Akamba Handicraft Cooperative. We walked through a area with hundreds of workers carving different sculptors out of different types of wood. We were told the history of this cooperative while we walked.
Mombasa, January 2004 – River Cruise
A river cruise is a nice change from quiet days in the hotel area. We were picked up at our hotel, and had lunch at the pier before boarding the boat. Then we sailed up the Mtwapa River for a while. There was entertainment onbord, and we were not aware of them having an acrobat show. On the way back we stopped at a small local zoo.
Mombasa, January 2004  – 'Crocodile Farm' Tour
We booked a tour to a 'Crocodile Farm', but this turned out to include a beautiful botanical garden, and aquarium and reptiles.
We had lunch in their restaurant: crocodile steak with potato chips and vegetables.