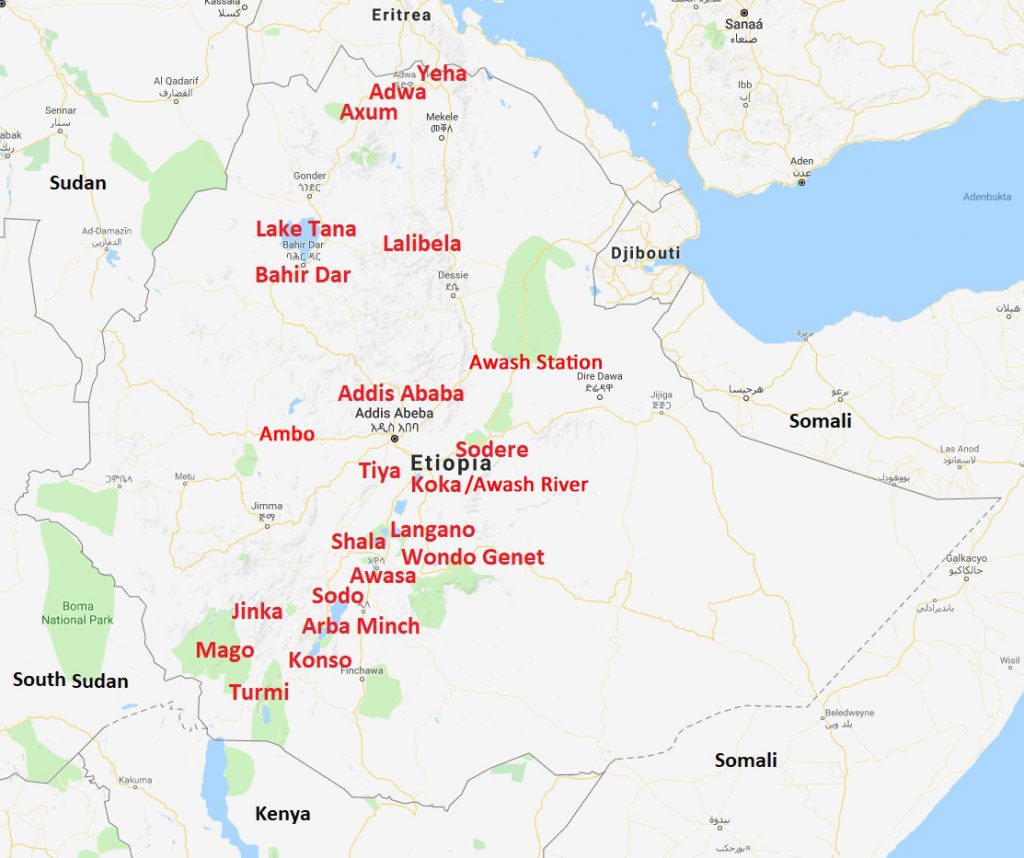 Ethiopia is divided by the Rift Valley, with a string of lakes southwards from Addis Ababa to Kenya. On each side there are high mountains – especially in the North. North-East of Addis Ababa the valley spreads out towards Eritrea, Djibouti and Somalia, with the Danakil desert with active volcanoes and areas lower than sea level.
An old empire with a royal history stating that their emperors descended from King Solomon and the Queen of Sheba, and that their son Menelik brought the Arc of the Covenant into Ethiopia. Their Coptic religion, which is very much alive today, was in the old days ruled from the church in Egypt. The Ethiopians still use the Julian Calendar, with 13 months calendar, and their day starts at sunrise (6 am) and not at midnight. This means that their 12 o'clock is at our 6 am and pm, meaning that you have to check if you ask someone for the time.
When we lived in Ethiopia in 1963-67 the population was about 25 million. When I visited the country in 2002 it had increased to 70 million. The last time i visited the country in 2008 they were 83 million. In 2020 they were almost 115 million!
All-in-all a really fascinating country!
Click on a picture below to go to the selected webpage: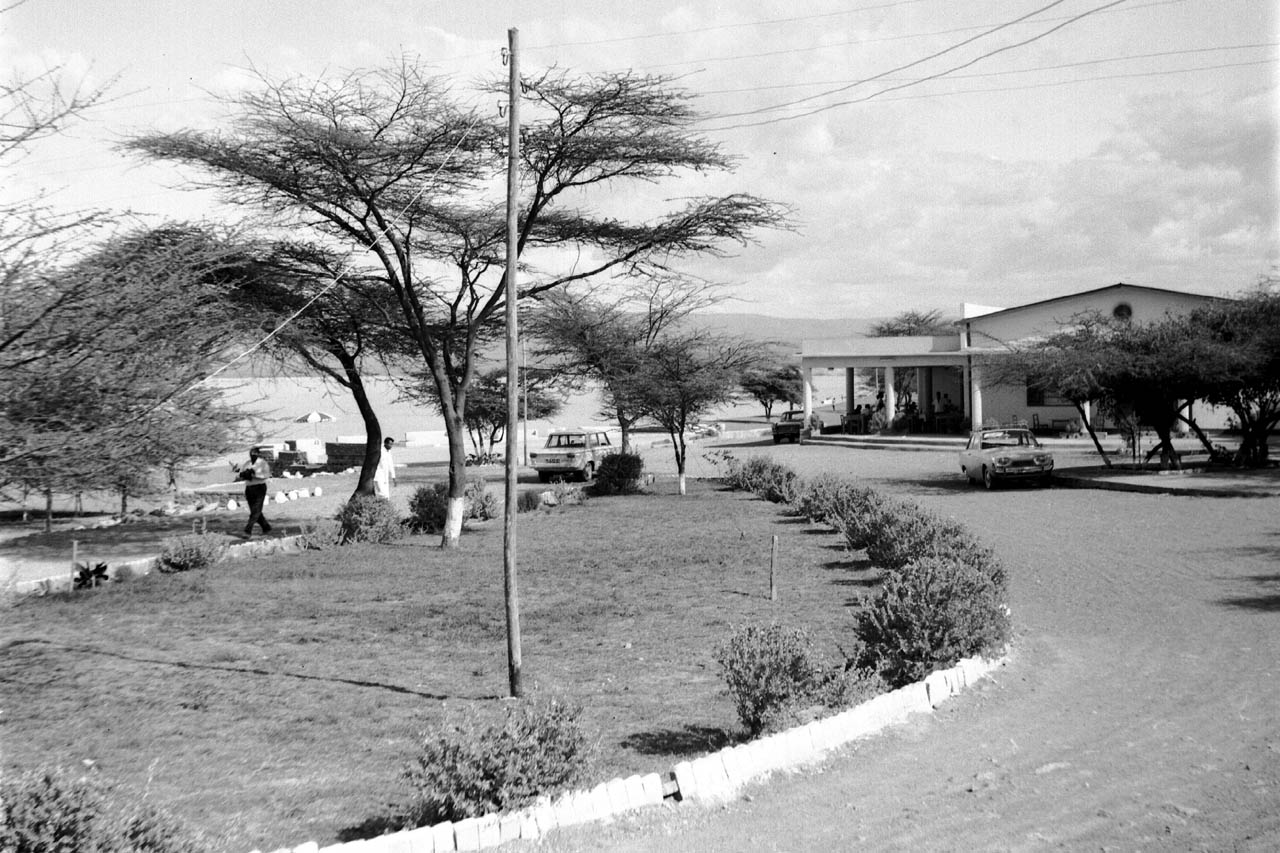 In Flickr; click on the slide show button ("TV symbol") in the upper right corner
Family Photos from Outside Addis Ababa, 1963-67
Some of our family photos from outside Addis Ababa 1963-67:
– Driving from Addis Ababa to Assab on the Red Sea Coast
– Menagesha National Park outside Addis Ababa
– Myself (standing) as a cub scout
– Arussie plain and Langano
– Horse riding in Makanissa (Addis Ababa)
– Swimming in Lake Bishoftu, Ambo and Wolisso
– Awash Station and Palm Springs (Awash National Park)
– Lake Shala, Awasa, Hagere Mariam, Mount Zukuhala (crater)
– Grape farm just outside Addis Ababa
(Photos from Addis Ababa: See Addis Ababa page)
Ambo Hot Springs, December 1964
Short sequence from our family 8mm cine film.
Ambo was one of the places we used to drive to on Sundays to relax. There was a large warm-water pool near a hot mineral water spring. Ambo is situated west of Addis Ababa, and we had to drive across endless highland plains. We usually brought our cooler box with food for a picnic on the lawn. Us children were mostly playing out in the water. 
The best part was to sit in a small pool where the hot water poured straight out of a pipe. The occasion in this film sequence was our grandmother visiting us for Christmas. Away from snow and cold weather she really enjoyed the hot water pool.  
Awash Station and Palm Springs, January 1966
Short sequence from our family 8mm cine film.
After Christmas we drove down to the Awash National Park to visit the hot springs. Since it was a long drive on dusty roads we stopped for the night in Nazareth. Last gas station was in the Awash Station village, and after that it was only really dusty dirt roads through the barren landscape. The dust was like powder, and quite deep in some places – getting into the engine and all movable parts. On the way we saw many Oryx antilopes.
Palm springs was an oasis in the dry landscape, and there were several hot springs. One was so warm that only my father dared to have a dip. 
Ambo Hot Springs, January 1967
Short sequence from our family 8mm cine film.
After Christmas my mother decided to take an overnight tour to Ambo so that we children could bath and play in the pool. When we were disappointed that there was hardly any water in the pool. They had emptied it for cleaning, but they were now filling it again. In the meantime we drove further down the road to explore the area before returning to Ambo.
Next day there was enough water in the pool for swimming, and we had a good time. On our way back to Addis Ababa I was allowed to film for the first time when we drove through a small village.
My visit in Ethiopia in 2008 (photo book)
This is an illustrated book I made with the full story (text in Norwegian) of my visit to Addis Ababa in the Ethiopian millennium year 2000.
My intention was to visit as many of the places I remembered from 1963-67 when we lived there.
I managed to get into all the 3 different houses we used to rent, and into the classroom I used to go to in the Norwegian school. 
I hired the son of an Ethiopian woman married to a friend in Norway as my taxi driver. He drove me around in Addis Ababa, and I rented a car in which he drove me to Sodere, Koka, Langano, Shala and Wondo Genet.
I stayed with a Norwegian friend in Awasa, and took a local bus back to Addis Ababa.
(Close the commercial [X], and press full-screen [/])