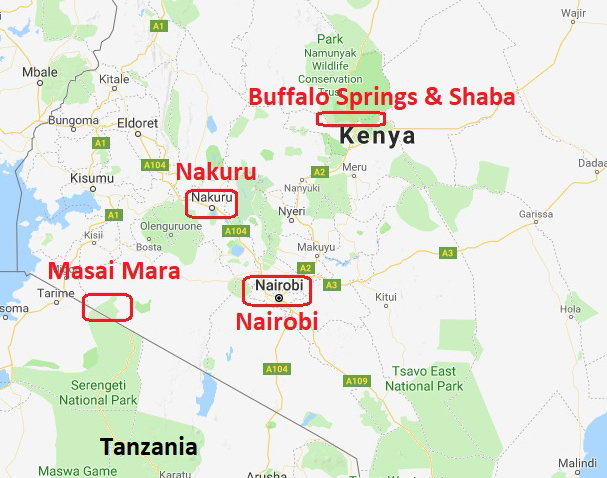 Nairobi

and Kenya Safari, January 2004
We started our visit to Kenya with a safari week. Tour operator was Tema Tours. We were a small group of Norwegians traveling in 3 minibuses.
After visiting Karen Blixen's house near Nairobi, and a Giraffe Nursery, we headed North past Equator and Mount Kenya to Buffalo Springs and Shaba national parks.
Thereafter we headed south for Masai Mara national park, stopping at Thompson's Fall for lunch, and for a game drive in Nakuru.
In Masai Mara we stayed in "tents" and had two nice game drives. We even passed the border into Serengeti in Tanzania – just a few meters and a couple of minutes,
We ended our safari week in Nairobi. We had a good last dinner in the Carnivore Restaurant where we were served different kind of wild game.
Karen Blixen was a famous Danish writer. For most people she is known from the movie Out of Africa. Her farm was burnt down, but the main house was re-built for the movie. 
The bungalow-style house which is now the Karen Blixen Museum was built in 1912 by the Swedish engineer Åke Sjögren, The house and its attached property were bought in 1917 by Karen Blixen and her husband, Baron Bror von Blixen-Finecke with the intention of operating a coffee plantation. After the Blixens separated in 1921, Karen Blixen continued to live at the house and run the plantation until she returned to Denmark 1931. Her life here is chronicled in her most famous book, Out of Africa, as well as in her book Shadows of the Grass.
January 2004:

Giraffe Centre

outside Nairobi
Before starting our safari we visited a Giraffe Centre where we could feed and touch the giraffes. They also have a giraffe museum where we got a short presentation of the different types of giraffes.
January 2004: Experiencing Earth Rotation at the

Equator
A simple demonstration of earth's rotation with a match-stick in a small bucket of water.
Just a few meters south and north of Equator the water spirals out of a small hole. North of Equator the water jet has a right-swirl, and South a left-swirl. On the Equator line the water jet does not swirl, and the match-stick does not rotate.
Buffalo Springs National Parkis a relatively small national park next to Shaba National Park. Here we saw many different animals in a small area. A good place for a "compact" safari without driving long distances.
The reserve was established in 1948 as part of the Samburu – Isiolo Game Reserve, and the present boundaries were established in 1985. It is named after an oasis of clear water. The reserve has an area of 131 square kilometres at an altitude of about 1000 metres. It is a gently rolling lowland plain of old lava flows and volcanic soils of olivine basalt. The climate is hot, dry and semi-arid.
We had an evening safari in the Shaba park. We did not see many animals, but the landscape before sunset was breathtaking. 
We were told that the landscape in Shaba was the inspiration for the animated movie The Lion King and other movies.
January 2004: Driving from Shaba to Thompson's Fall
I include this video clip to show how it is to move around in Kenya. Some roads are good, and some has not been maintained since colony times. The bad condition of roads can also be seen in my video clip Masai Mara to Nairobi below. 
We stopped in Thompson's Fall for lunch, where we simply ate food from lunch boxes. A nice place to stop with a nice waterfall. 
Nyahururu Falls (Thomson Falls) is a 74 metres waterfall on the Ewaso Ng'iro river 3 kilometres from the town of Nyahururu, at 2,360 metres elevation. In 1883 Joseph Thomson was the first European to reach Thomson Falls, and named them for his father. 
Lake Nakuru is a soda/saltwater lake. Thousands of flamingos feed on the pink algae in the lake which makes these strange birds turn pink. There were also hundreds of pelicans and marabou storks.
We drove across the plains on along the lake (which I heard is not allowed today) and stopped to watch rhinos, buffaloes and antelopes.
Sitting outside our bungalow at the Lion Hill watching the view at sunset and listening to the sounds can be recommended!
January 2004: Morning in Nakuru, and the drive to Masai Mara
A relatively cool morning with bird song before breakfast and heading south to Masai Mara national park.
More interesting road and small towns – and of course a flat tire which is to expect at least once on a safari.
January 2004: Masai Village
A stop at a Masai village to see how they live. They danced for us on arrival, and one of the Masais told us about their life.
There was also a demonstration of lighting fire with a wood sick, and we experienced a smoke filled hut.
January 2004: Sarova Mara Camp
Sarova Mara Camp was an oasis in the wilderness with beautiful African buildings and a garden with a swimming pool – very welcoming after a long drive! 
We stayed in 'tents' for two nights. Not very primitive with proper beds and a bathroom with modern facilities – all covered by a tiled roof. With thin fabric wall we could listen to the night sounds and get a tent-feeling.
January 2004:

Masai Mara

– Second Game Drive
On this game drive we even passed the border to Tanzania a few meters into the Serengeti National Park, which is the same park's name on the Tanzanian side.
(You can see videos from my 2006 Serengeti safari here).
January 2004: Masai Mara to Nairobi
Dirt roads, good roads and roads needing maintenance – the experience of Africa!
We had a short stop at the Rift Valley escarpment on our way up to the high plain and Nairobi – back to the big noisy and polluted city before flying down to Mombasa for a week's relaxation before returning to winter in Norway.