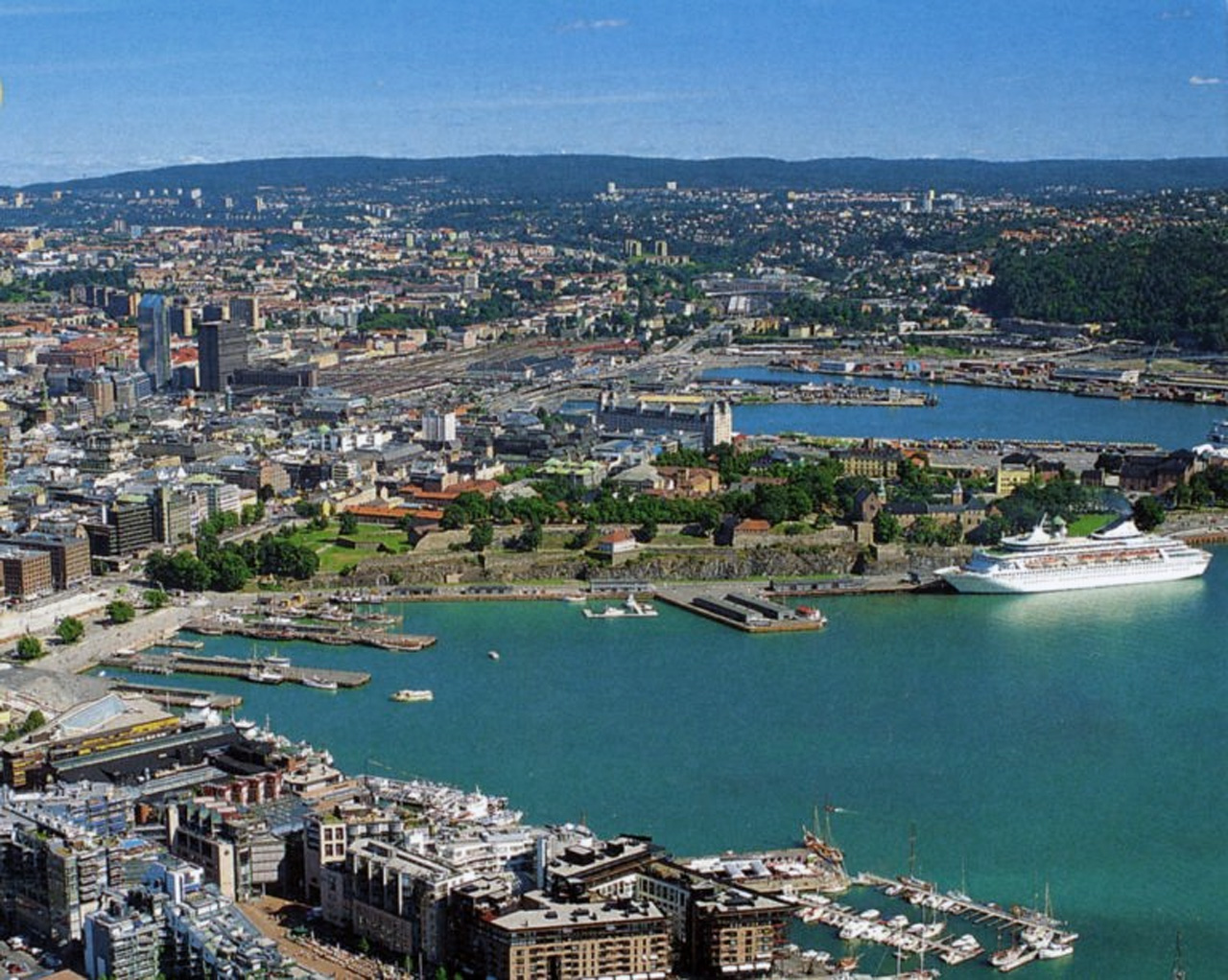 Oslo
Oslo is the capital and most populous city of Norway, founded in the year 1040. Earlier Oslo was called Kristiania, but renamed Oslo in 1925.
The city center is situated at the end of the Oslofjord. Surrounding Oslo are wide forested hills rise above the city giving the location the shape of a giant amphitheater. The forests are Oslo's recreation areas where people can walk, jog, camp, bike, ski, etc. Even if there are thousands out in the forests during weekends, you can walk smaller paths' for miles without meeting anyone. 
The fjord is a popular place for boating and swimming in summer. Passenger boats to some of the islands is a part of the public transportation system. 
Oslo has a humid continental climate with warm summers and cold winters. Present records are +34 deg.C in summer and -26 Deg.C in winter. Because of the city's northern latitude, daylight varies from more than 18 hours in midsummer, when it never gets completely dark at midnight, to around 6 hours in midwinter.
Oslo Climbing Park, Tryvann, June 2013
On the top of the mountain behind the Holmenkollen ski jumps you can see the Tryvann Tower. Beyond this you will find the Oslo Summerpark with the Climbing park.
Here everyone fit enough can climb different routes through the treetops with different difficulties. There are routes for small children and extreme routes for the brave.
I tried several routes together with my daughter, and some were quite challenging – even if they were not the most extreme. Fortunately you will never fall down, because you have at least one safety strap attached to a wire at all times.
Gressholmen Island, Oslo, August 2017
There are several islands in the Oslo Fjord 'just minutes' from the city center. There are boats leaving in front of the city hall, near Aker Brygge. If you have a valid ticket for the public transportation in Oslo you can also use it on these boats. 
I visit the islands several times in the summer. On this occasion I wanted to test a new stabilizer (gimbal) for my compact camera. I like scenes were I walk, and a tour around Gressholmen was a perfect way to see if the stabilizer was good enough.
On Gressholmen there is also a small restaurant, and Oslo's first seaplane terminal was here. s
Olav Ryes Plass, Oslo, August 2017
Olav Ryes Plass is located in the Grünerløkka area, and sometimes they have market days. This is a good time to visit this small park area surrounded by cafés and shops.
Street vendors sell foods, clothing and other things, and usually there is someone playing live music.
Stroll along the stalls, have something to eat, and finish it off with a coffee at a café.
Sorry about the terrible wind noise in these film clips. 
Farmers Market, Tøyen, October 2017
The Tøyen Park includes a botanical garden, zoological museum, botanical museum and geological museum. On top of the hill there are som buildings from the Old Tøyen farm. Here you find a popular café, and on the opposite side of the road a farmyard where the market was held.
This year the theme was Matbeat ("Foodbeat") inspiring people to start urban farming. Here you could visit the different stalls to learn about their products – how they were grown or produced. Of course you could also buy their products.
Akerselven (Aker River), October 2018
Akerselven is a river flowing from Maridalsvannet (lake) down through Oslo. It is very popular to walk or jog along the riverbanks.