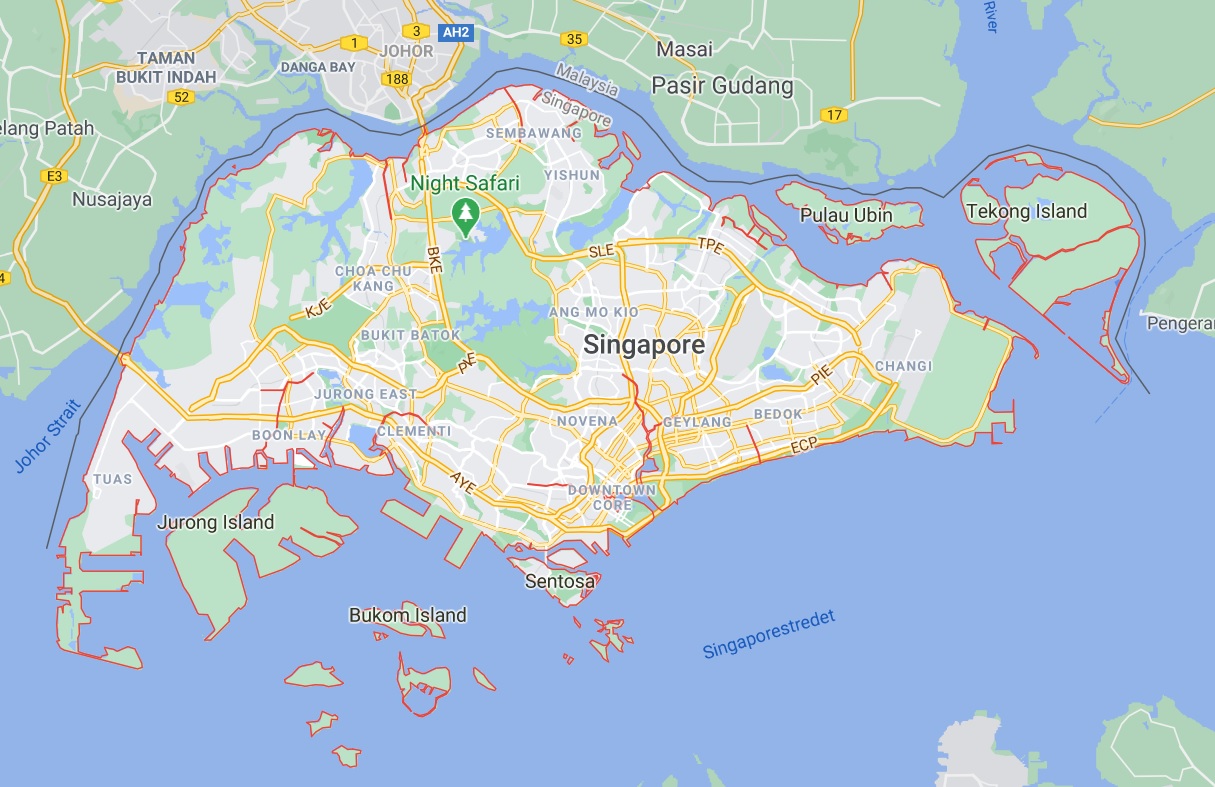 Singapore is a sovereign island city-state in maritime Southeast Asia. It lies about one degree north of the equator off the southern tip of the Malay Peninsula, bordering the Straits of Malacca to the west, the Riau Islands to the south, and the South China Sea to the east. The country's territory is composed of one main island, 63 satellite islands and islets, and one outlying islet, the combined area of which has increased by 25% since the country's independence as a result of extensive land reclamation projects. It has the second greatest population density in the world. The country is home to almost 5.8 million residents, 61% of whom are Singaporean citizens. There are four official languages of Singapore: English, Malay, Chinese, and Tamil; with English being the lingua franca. This reflects in its rich cultural diversity and extensive ethnic cuisine and major festivals. Multiracialism is enshrined in the constitution, and continues to shape national policies in education, housing, and politics.
Although its history stretches back millennia, modern Singapore was founded in 1819 by Sir Stamford Raffles as a trading post of the British Empire. In 1867, the colonies in East Asia were reorganised and Singapore came under the direct control of Britain as part of the Straits Settlements. During the Second World War, Singapore was occupied by Japan in 1942 but returned to British control as a separate crown colony following Japan's surrender in 1945. Singapore gained self-governance in 1959, and in 1963 became part of the new federation of Malaysia, alongside Malaya, North Borneo, and Sarawak. Ideological differences led to Singapore being expelled from the federation two years later, thereby becoming an independent country.
I visited Singapore first time in 1981 on my way to the Philipines, Noumea and Fiji. Later in 1989 on my way to Australia, and in 1993 on the way back from Tokyo.
February 1993 – Singapore City
On my way back from Tokyo I had a stop-over in Singapore to 'get warm' after low temperatures in Japan, before flying back to winter in Norway.
I stayed in a small pension in walking distance of Orchard Road where I visited several shopping centers before heading down to Raffles Hotel and the Singapore River area. A lot of new buildings had been built since I visited Singapore for the first time in 1981.
February 1993 – Singapore Zoo
I took the modern train up to Singapore Zoo, and had a nice half day walking around in this nice park looking at all the animals. I watched the elephant and sea lion show.
February 1993 –

Sentosa Island

– Aquarium and Beach
The island was formerly used as a British military base and then a Japanese prisoner-of-war camp. Sentosa and was planned to be a popular tourist destination, and is now a popular resort that receives more than twenty million visitors per year.
I took the cable car to Sentosa Island. After walking in the park I visited the impressive Underwater World aquarium. 
The park had changed since my 1981 visit. Now there was a monorail, hotels in the beach area, and several other changes. There was also a new causeway to the island as an alternative to the cable car.
February 1993 – Singapore Airlines, Raffles Class
I was lucky to fly Business Class with Singapore Airlines back to Europe. Here is a short video-clip from when they served dinner. We were very few passengers in the top deck, so the service was exceptionally good. 
February 1989 – Singapore
(coming soon)