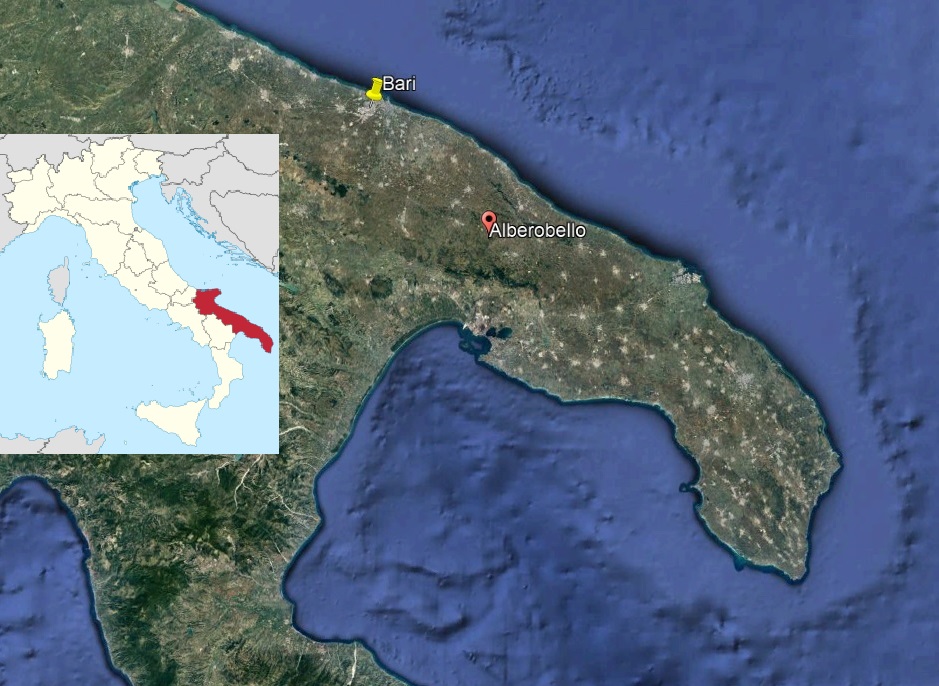 Apulia is a region of Italy in Southern Italy bordering the Adriatic. Its southernmost portion of Italy, known as the Salento peninsula, forms the "heel on the boot" of Italy. The climate is typically Mediterranean with hot, dry and sunny summers and mild, rainy winters. Apulia is among the hottest and driest regions of Italy in summer with temperatures sometimes reaching up to and above 40 °C.
Bari is the capital city of the Apulia region. It is the second most important economic center of mainland Southern Italy after Naples, a port and university city, as well as the city of Saint Nicholas. The city itself has a population of 350,000, while the metropolitan area has about 1.3 million inhabitants.
During a cruise in 2011 we stopped in Bari for a full day. We booked a guided bus tour to the Trulli village Alberobello.
Alberobello, a Trulli Village, June 2011
A trullo (plural, trulli) is a traditional Apulian dry stone hut with a conical roof. Their style of construction is specific to the Itria Valley in the Murge area of the Italian region of Apulia. Trulli generally were constructed as temporary field shelters and storehouses or, as permanent dwellings by small proprietors or agricultural laborers.
The town of Alberobello, a small town of about 11,000 inhabitants, in the province of Bari, whole districts contain dense concentrations of trulli. The golden age of trulli was the nineteenth century, especially its final decades, which were marked by the development of wine growing.
Alberobello. It is  and is famous for its unique trullo buildings. The trulli of Alberobello have been designated as a UNESCO World Heritage site since 1996.