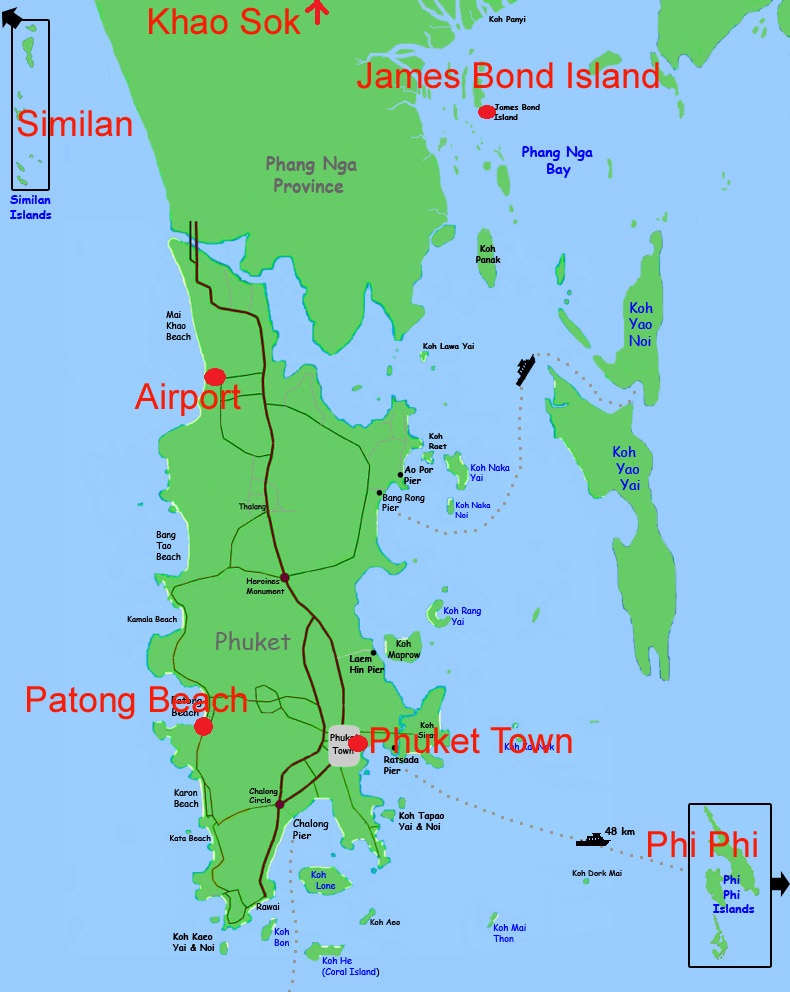 Phuket is the largest island in Thailand. 48 km long and 21 km wide. It lies off the west coast of Thailand in the Andaman Sea, and is connected by the Sarasin Bridge to the mainland to the north. Population is about 430,000. The name Phuket is relatively recent having previously been named Jung Ceylon and Thalang.
70 % of Phuket's area is covered with mountains which stretch from north to south. The highest elevation of the island is 542 meters above sea level in the Kamala hills behind Kathu waterfall. The remaining 30 percent are plains in the central and eastern parts of the island. It has a total of nine brooks and creeks but does not have any major rivers.
The island was on one of the major trading routes between India and China, and was frequently mentioned in foreign ships' logs of Portuguese, French, Dutch, and English traders, but was never colonised by a European power. It formerly derived its wealth from tin and rubber and now from tourism.
Khao Sok National Park lies on the mainland north of Phuket. Its area is 739 km2 and it includes the 165 km2 Cheow Lan Lake contained by a Dam. The park is the largest area of virgin forest in southern Thailand and is a remnant of rain forest which is older and more diverse than the Amazon rain forest.
The Similan Islands is an archipelago in the Andaman Sea off the coast of southern Thailand with very clear water. It was established as a National Park in 1982.
Phi Phi Islands lies group between Phuket and Krabi Province, and can be reached from Krabi or from Phuket. The islands feature beaches and clear water. Tourism on the islands exploded since the release of the movie The Beach.
Elephant riding in mud
Phuket area, November 2010
On our way to Khao Sok National Park we stopped to ride elephants. We were surprised to see all the mud caused by repeated tours up a small valley. This ride what different from other elephant rides I have tried in more touristic places.
We followed a small creek up through the valley, and were surprised again of how they were able to climb the steep rocks.
They allowed the elephants to rest for a while before going back. In the mean time we followed a path up-stream as far as we got before we were blocked.
Lunch in a jungle bungalow
Khao Sok area, November 2010
Before starting our boat ride on the Khao Sok lake, we stopped for lunch in a nice tropical jungle restaurant. Really tasty Thai food, followed by fresh fruits. Before departure we walked in the garden enjoying jungle sounds and the plants.
On arrival in the Khao Sok National Park lake we were transferred to long-tail boats that took us to our floating hotel located between 2 islands in the lake. The nature and scenery is really beautiful!
We were lodged in our own bamboo hut. Very basic, but good enough. We relaxed and swam in the warm water, and ate good Thai food. The evening was the day before full moon, and we were able to walk bare-feet without any light. There were no insects, and the evening was warm.
Next day we were taken by boat to walk through the jungle to a cave.
We all wanted to visit James Bond Island, where scenes for "The Man with the Golden Gun" was filmed. (I have included a few scenes).
Were were picked up by a minibus and transferred to a boat at the north-eastern part of Phuket. From there we sailed north between strange cliff-islands.
On the way we had several stops at other islands to swim and explore caves by canoe.
Boat trip to Similan Islands. First a few hours(?) by minibus to a port on mainland on the west-coast north of Phuket. Then by speed boat for at least an hour to the clearest water we have seen.
We stopped here and there for snorkling, and visited a few islands.
Cashew Nut Factory and shop
Phuket, November 2010
On a tour of the Phuket Island we stopped at a cashew nut factory.  We were shown how they separated the nut from its shell, and of course we were allowed to buy all kinds of nuts in their shop.
Phuket Tempels
Phuket, November 2010
On our tour of the Phuket Island we stopped to see the big Buddah at the top of a mountain. 
Thereafter we visited the Wat Chalong temple near Phuket City.
Jungle Tour with Caves
Phuket Area, December 2011
Nice tour too the mainland North-east of Phuket. First we visited the Wat Suwan Kuha – Buddha Cave in Phang Nga. This was a large and open cave with Buddhas and shrines.
Next stop was Khao Chang with the Pungchang Cave. This was a narrow passage in the mountain where we were rowed in with canoes and bamboo rafts. The last hundred meters we had to wade in the cold water. There were bats in the ceiling.
We also visited a nice Thai house, stopped at a rubber plantation, and walked in the jungle to a small freshwater stream with relatively cold water – yes I had to have a dip.
Fantasea

, Thai show
Phuket, December 2011
Just a short drive from Patong there is a large amusement area –
FantaSea
. We booked a show there, which included dinner. We strolled in the area visiting their many different buildings, and watched a fantastic show. It was not allowed to bring cameras inside, but I found a few photos on Internet to illustrate the show in my movie.
Patong

night life


Phuket, December 2011
My daughter and I did not want to go to the shopping center again, so we went to Bangla Road to have a drink instead. Met a nice couple from Australia and talked to all the waitresses. 
When we were leaving we met a "nice" lady-boy or she-male couple …
Boat Tour to

Phi-Phi

and nearby Islands


Phuket, December 2011
We started from a pier in the north-eastern part of Phuket. The tour included stops on Khai Island for relaxing and swimming, Yao Yai Island for lunch. Then to Phi-Phi Lae Island, passing the Viking Cave to hear about birds nest production, swim in a lagoon, and to Maya Bay where they filmed 'The Beach'.
After walking, relaxing and swimming on this crowded beach we had a quick stop at Phi-Phi Don Island near the Monkey Beach to watch monkeys on the shore. Then we continued to Bamboo Island (Ko Mai Phai), which was a nice coral island with clear water, but unfortunately it was overcast and we had some rain.