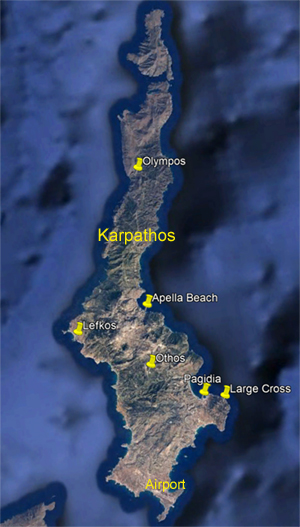 Karpathos is an island in Greece located between Crete and Rhodos.  The islands capital is Pigadia, or Karpathos town.
Karpathos is covered with high mountains, and is therefore a wonderful island for walkers/trekkers. There are many paths with walks ranging from easy walks to nearby beaches to more demanding walks in the mountains. Check Internet for routes, maps and recommendations.
If you stay in Pagidia, the beach is not the best. Rent a car or take a local bus to one of the many bays with sandy beaches. I have visited Kato Lefkas on the west side and Apella Beach on the east side.
Pigadia Evening, July 2014
The town is not known for a vibrant nightlife, but the evenings are nice. Sit on a street side tavern with a coffee or a drink and watch people passing by. Walk along the pedestrian street enjoying mild evenings.
In the southern part of the town there is a church on the rocks, and this is well worth a visit – especially at sunset.
Then walk along the restaurants and find one you like. If you are not sure what to order from the menu, ask the waiter to show you the dishes in the kitchen. This is quite common in at least smaller family restaurants in Greece.
Apella Beach, July 2014
Clear water, fresh air, beautiful landscape. Start early and enjoy the beach before the tourist boats arrive. 
There is a bus service from Pigadia to Apella. Check the time table at the bus station.
Chapel on a hilltop outside Pigadia, July 2014
The best time for walking is before it gets too hot in the morning. If you walk southwards in the upper part of the town you will find a small road running along the coast. 
The road turns uphill, and you will reach the monastery Panagia Lamiotissa and a tall cross at a view point on the other side of the road.
Then walk up a steep winding road, and you will reach the chapel Eklisia Agia Kiriaki.
Olympos Village, July 2014
Walking from Othos in the mountain
down to Pigadia, July 2014
Pigadia in Daytime, July 2014