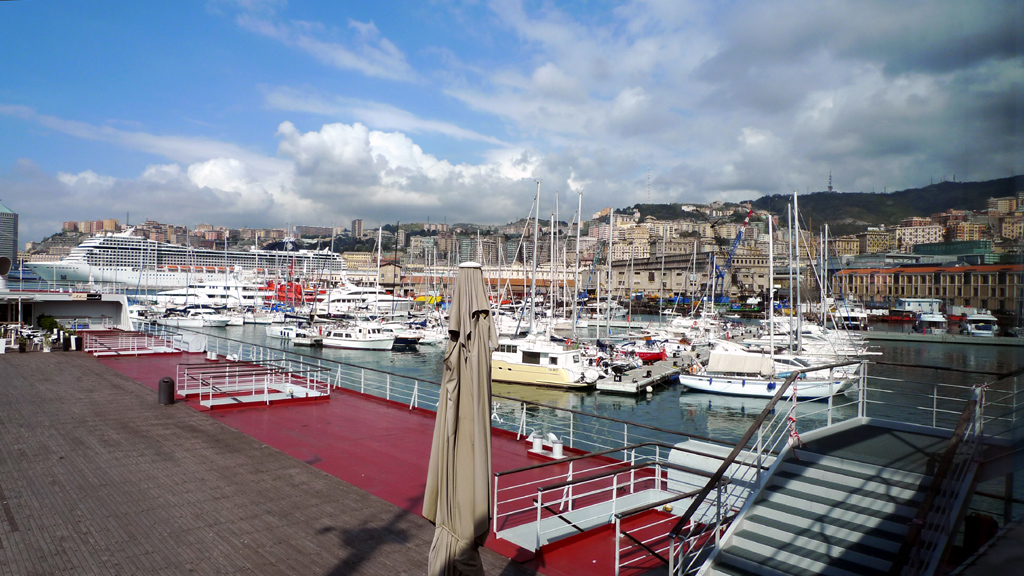 GENOA
Genoa is the sixth-largest city in Italy with about 800,000. Over 1.5 million people live in the wider metropolitan area stretching along the Italian Riviera. The city of Genoa covers an area of 243 square kilometers between the Ligurian Sea and the Apennine Mountains. The city stretches along the coast for about 30 kilometers from the neighbourhood of Voltri to Nervi. Genoa is adjacent to two popular Ligurian vacation towns: Camogli and Portofino. The city's hilly nature has influenced its public transport. The city is served by two funicular railways (the Zecca-Righi funicular, the Sant'Anna funicular), the Quezzi inclined elevator, the Principe-Granarolo rack railway, and ten public lifts.
Located on the Gulf of Genoa, Genoa has historically been one of the most important ports on the Mediterranean. It is currently the busiest in Italy and in the Mediterranean Sea and twelfth-busiest in the European Union.
2009-03 – Genoa and Nearby Towns
After being picked up at the airport by a friend we drove to Camogli after having lunch in Nervi. Being March it was quite warm in the sun. This town is really beautiful. 
I checked into my hotel when we returned to Genoa, and in the evening we dined in his appartment.
Next day we walked in the old harbour area and visited the aquarium and a replica of Colombus' ship. Then walked in the old town, and took the funicular up the the upper part of the city to look at the view (it was hazy). 
Next day we visited Nervi. It was a cloudy and windy day. We walked along the coast, and and had lunch before driving back to Genoa.