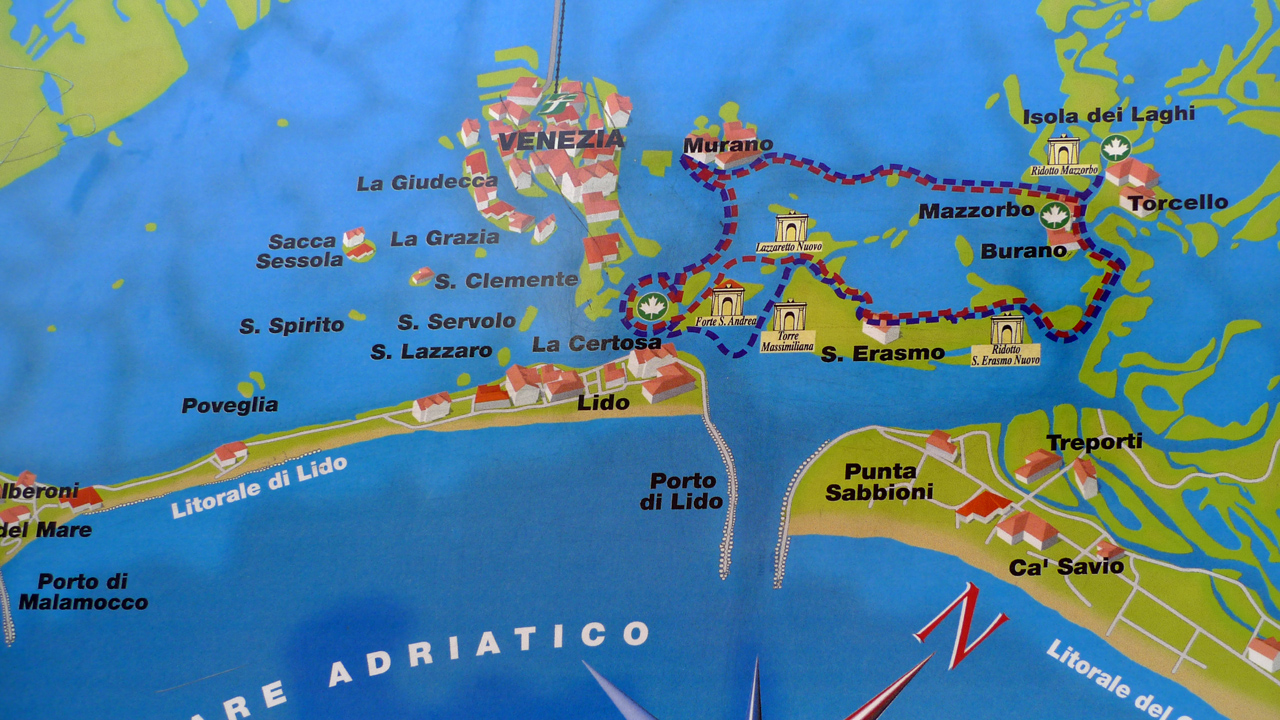 Venice or Venezia is a group of 118 small islands that are separated by canals and linked by over 400 bridges. The islands are located in the shallow Venetian Lagoon. In 2018 around 55,000 people lived in the historical city of Venice. The name is derived from the ancient Veneti people who inhabited the region by the 10th century BC. The city was historically the capital of the Republic of Venice from 697 to 1797. It was a major financial and maritime power during the Middle Ages and Renaissance, and a staging area for the Crusades, as well as an important center of commerce – especially silk, grain, and spice, and of art – from the 13th century to the end of the 17th. The city-state of Venice is considered to have been the first real international financial center. The Republic was annexed by the Austrian Empire, until it became part of the Kingdom of Italy in 1866.
I have visited Venice several times, but our 3-days visit in 2011 gave us time to really see and experience Venice. This was in connection with a cruise in the Adriatic. We bought 2-day tickets for the Vaporettos (water buses), and explored the islands and cruised the Canal Grande. We were lucky to fins a reasonably cheap Pensione located centrally between Rialto Bridge and San Marco so my mother avoided walking far to get back to rest.
2019-06 – Evenings in Venice 
In connection with work near the Marco Polo airport we were able to take the bus into Venice in the afternoon/evenings. One afternoon we walked around for a couple of hours, and another evening we simply went there to have dinner. As usual I carried my Sony RX100V compact camera and took some video clips. 
Arriving in Venice by boat, June 2011
Just a short walk from the Marco Polo airport you can take a boat into Venice. This is a perfect way to arrive in this wonderful city.
We left the boat at the Rialto bridge, and a local porter transported our luggage to a pre-booked pension in a narrow street. 
Sightseeing in Venice, June 2011
Very close to our hotel we found the street that led to Piazza San Marco. Walking slowly and looking in shops we reached the square. There were lots of people there (as usual). We walked down to the pier to look at all the gondolas and the bay. There were relatively few people in line for taking the lift up in the Campanile tower to see the magnificent view of Venice.
We went back to the Rialto bridge to another crowd of tourists taking photos of themselves in front of Canal Grande. We continued to a restaurant with a garden where we dined.
Later in the evening we walked back to Piazza San Marco to see the place after dark.
Murano Island, Venice, June 2011
Murano is a series of islands linked by bridges in the Venetian Lagoon. It lies about 1.5 kilometres north of Venice and measures about 1.5 km across with a population of just over 5,000 (2004 figures). It is famous for its glass making.
Murano's reputation as a center for glassmaking was born when the Venetian Republic, fearing fire and the destruction of the city's mostly wooden buildings, ordered glassmakers to move their furnaces to Murano in 1291.
Murano's glassmakers held a monopoly on high-quality glassmaking for centuries, developing or refining many technologies. Today, the artisans of Murano still employ these centuries-old techniques, crafting everything from contemporary art glass and glass jewellery to Murano glass chandeliers and wine stoppers.
Burano Island, Venice, June 2011
Burano is a small island in the Venetian lagoon, 7 kilometres Venice, a 45-minute trip from St. Mark's Square by Vaporetto. Burano is a series of several different islands all linked with bridges, with a population close to 4000 people. 
Burano is known for its small, brightly painted houses, which are popular with artists. The colours of the houses follow a specific system, originating from the golden age of its development. If someone wishes to paint their home, one must send a request to the government, who will respond by making notice of the certain colours permitted for that lot. Other attractions include the Church of San Martino, with a leaning, the Oratorio di Santa Barbara and the Museum and School of Lacemaking.
Afternoon sightseeing, Venice, June 2011
The best way to see Venice is to walk the smaller streets at random, crossing bridges, and get lost. You will always find your way back – if not, ask someone. 
Evening sightseeing, Venice, June 2011
The fastest way to get to other parts of Venice is to take the
Vaporetto
. Buy tickets for a day or two, and you can hop-on-hop-off whenever you want. These boats also service some of the other islands.
We took the Vaporetto down the Canal Grande one evening, from the Rialto area to Piazza San Marco, and in the early evening light with a cool breeze it can be recommended. The boat stops here and there, and watching people getting on and off is entertaining.
Morning express sightseeing, Venice, June 2011
To get the most out of our last day in Venice, before boarding our cruise boat, I took the Vaparetto together with my daughter to the Railway/parking area. From there we express-walked back to our hotel. We did not bring a map, but found our way. We had to take a gondola ferry across Canal Grande, and from there we found our way through the maze of streets and canals back to the hotel.
Venice from above (cruise departure), June 2011
We took a water taxi from our hotel to our cruise ship. After checking into our 'mini suite, we watched the departure from the 12th deck. Sailing out past the city from that height was like flying low over Venice – fantastic! However, this kind of traffic is not good for Venice and should be banned. We were lucky to have experienced it.