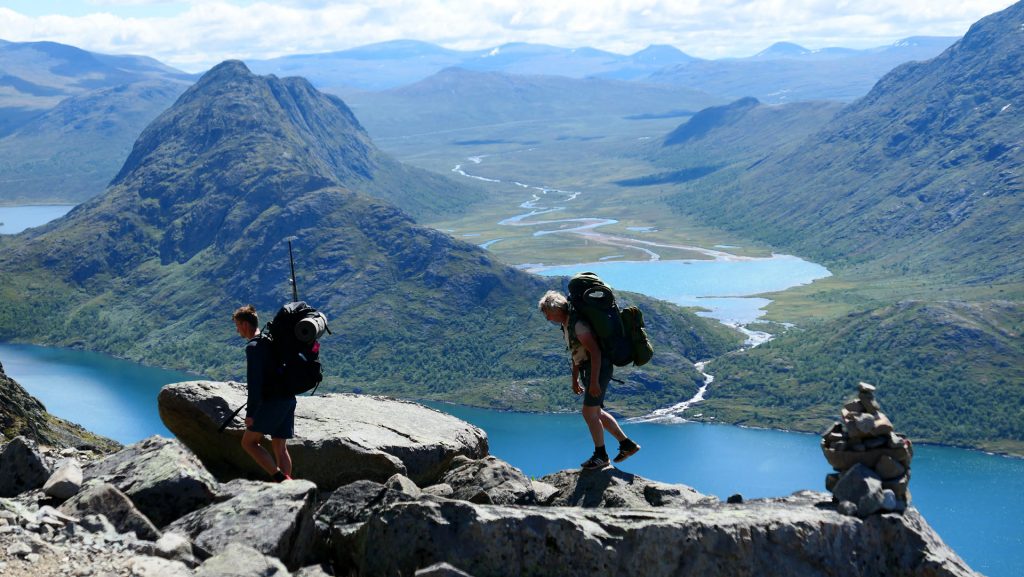 Norwegian Mountains and Winter Activities
Norway is full of mountains. We go skiing in the winter, and walk in the mountains when there is no snow. Walking from cottage to cottage in summer is very popular, but there are also famous routes you can walk in one day. The most famous are perhaps 'Besseggen' and 'Preikestolen'. 
In the winter people drive up to ski resorts for alpine skiing.  If you are lucky to have your own cabin you visit this regularly for skiing in the winter, or for walks in the summer.
Norway, Besseggen, August 2020
Besseggen is one of Norway´s most famous mountain walks. Thousands of people walk this route every summer. You can start from Memurebu or from Gjendesheim. People starting from Memurebu usually take a boat from Gjendesheim. If you start from Gjendesheim as I did you walk/climb down the steep edge.
This video was recorded while walking – also down steeper parts of the edge. I used a Sony RX100V on a gimbal stabiliser, and a Sony RX100VII for the long zooms from below.
Preikestolen, October 2010
In connection with a company weekend teambuiling we walked up to the famous Preikestolen cliff. 
To reach this area you can fly to Stavanger og the West coast, and drive from there. You have to take a ferry across a fjord, which is a nice break. Then up to the parking lot where you start climbing.
Rounding the last bend and walking to the edge gives you a breathtaking view of the fjord below.
Skiwax course with Bjørn Dæli, January 2005
During a weekend with work related team-building in Geilo, we were lucky to get instruction for applying ski wax from the famous Norwegian cross-country skier Bjørn Dæli (speaking Norwegian).
Snowscooter and 4-wheeler competition, January 2005
During a weekend with a work related team-building in Geilo, we had several activities to choose from. I was our official video photographer so I did not participate, but I were present with my camera.
During the snowscooter competition I wanted to film from the track. I asked if I could sit as a passenger looking backwards. OK, but good luck they said. I almost regretted doing this because I spent most of the time trying not to fall off. Driving a snowscooter is fun, but being a passenger is not so fun – especially sitting the wrong way. As you can see I got a few minutes of shaky video.
Skiing from Sollihøgda, February 2010
Some of my foreign friends have never seen snow. On request I uploaded this small video that I recorded with a small compact camera in 2010. The route from Sollihøgda to Sørsetra and back is about 15 kilometers. This winter day was especially nice, with lots of sunshine and temperatures not more than minus 5-7 degrees Celsius. 
It is not possible to film with a small compact camera while walking with ski-poles, so the scenes you see are from gliding down slopes.