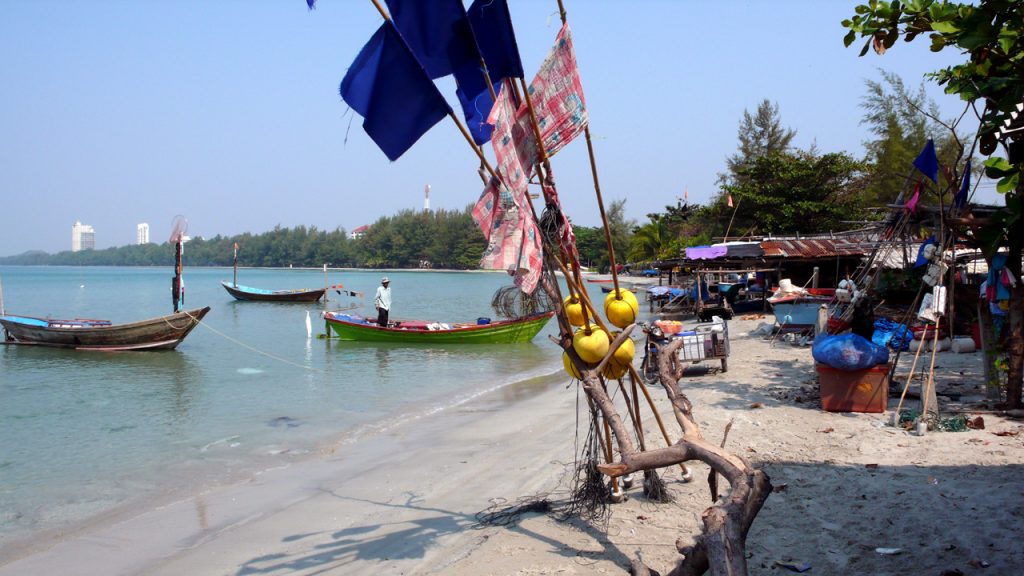 Rayong is a city on the east coast of the Gulf of Thailand and the capital of Rayong Province with a population of about 60,000. The main industry is fishing, and it is also the main producer of Thailand's fish sauce. It is also the center of the chemical and auto industries. In 2012 Ford Motor Company opened an assembly plant in Rayong to expand Ford's presence in the Asean area, employing some 2,200 people.
Ban Phe is a fishing port about 5 kilometers from Rayong Resort – a bustling fishing port and the departure point for boats to Ko Samet. Shops sell seafood products such as dried squid, fish sauce, shrimp paste and some souvenirs.
In connection with a business trip I joined my mother in Thailand on her vacation. After some days in Bangkok we headed down to Rayong. 
Rayong Resort was a nice and quiet place. We relaxed by the pool or visited the nearby Ban Phe village. In the mornings it was nice to walk along the beach, and one day we walked across the hill to Rayong Beach.
The hotel had a free transport service to Ban Phe. One of the first days I visited this town to orientate myself of the hotel's surroundings. I walk to the pier and watched the boats, and walk in the streets.
Some days later I went back with my mother to visit the aquarium and to see the fish markets and stalls.
The aquarium was located not far from our hotel. We took a taxi – the local roofed pickup type – to  get there. We were impressed of the size, because we had not expected such a large aquarium here.
The Aquarium has 3 sections, the marine life, the exhibition and the museum, and the especially nice is the walk-through tunnel where the fishes are all around you.