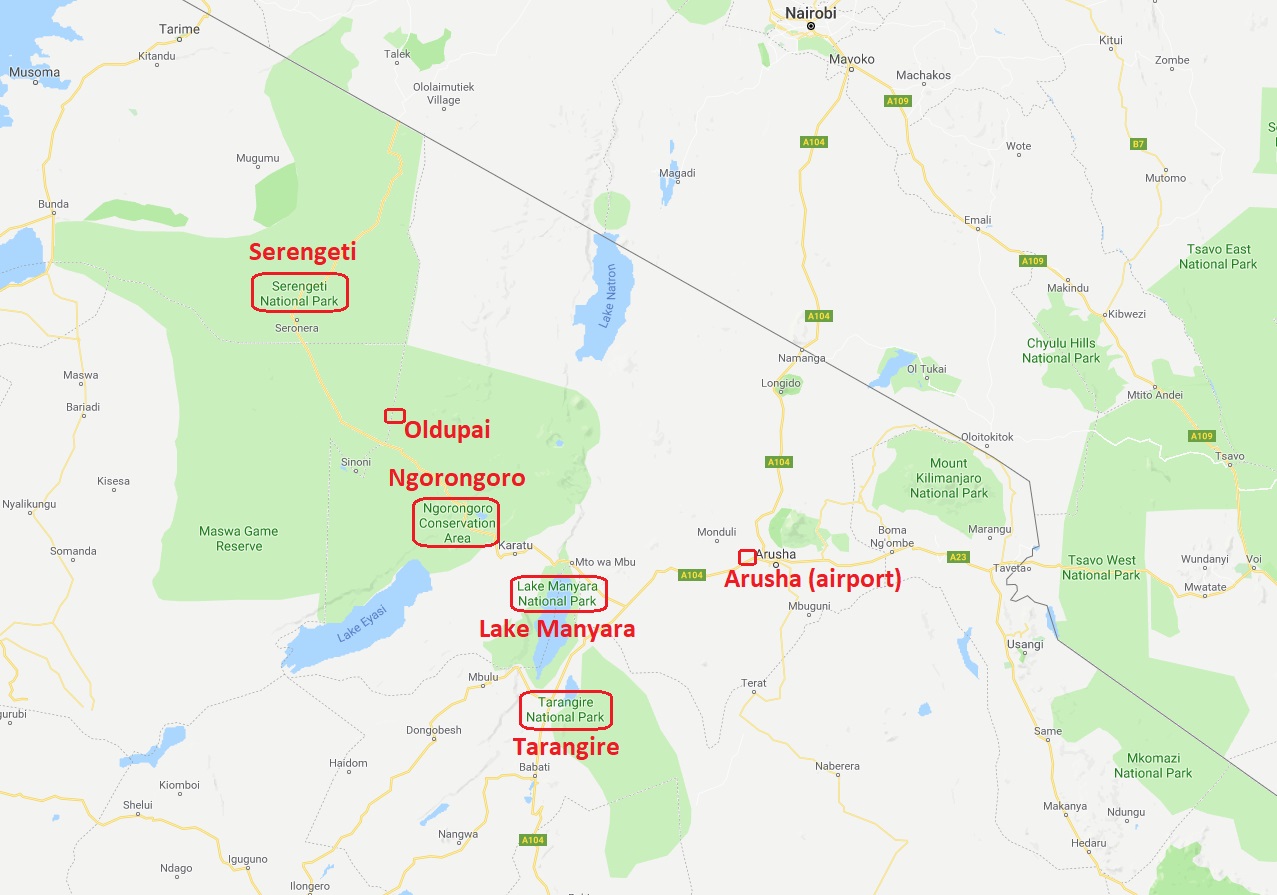 Safari in Tanzania: 3-11. March 2006 and 
We arrived by air from Nairobi, and stayed overnight near Arusha. Next day we drove to Lake Manyara for an afternoon game drive. The following morning we left for Serengeti National Park, crossing the Ngorongoro highlands, stopping at a Masai village and the Oldupai Gorge. After Serengeti we returned to Ngorongoro for a full day game drive. After a bush-walk at a coffee estate we continued to Tarangire before flying to Zanzibar for a lazy week on the beach.
We stayed in a lodge on the rim overlooking Manyara national park. After checking in we drove down into the park. Since this was our first safari we were excited when we saw a lion far away. (Several days later we saw several lions near the road: "What is that over there? – Just a few lions!")
This was my first time to see hippos grazing nearby during daytime.  There were lots of different animals to see.
We looked forward to reaching the rim of the Ngorongoro crater, but it was light rain and fog so we did not see any crater. We crossed this almost treeless landscape and headed down towards the Serengeti Plain.
We stopped in the Ngorongoro Highlands to have a closer look at an acacia bush. Our guide explained how the ant living in bulbs on the acacia swarms giraffes and antelopes trying to eat the leaves. The ants annoy the animals enough to scare them away.
She also told us that some acacias excrete a chemical when the giraffe eats its leaves making them taste bitter making the animal walk away. This chemical/smell is carried with the wind to the next acacia which start to excrete its protective chemical.
(Guide speaks Swedish – no translation).
March 2006:

Masai Village

in the Ngorongoro Foothills
On our way down from Ngorongoro til the Serengeti Plain we stopped in a Masai village. They welcomed us with dancing. We were shown around in their Manyatta and their small school.
The Olduvai Gorge or Oldupai Gorge in Tanzania is one of the most important paleoanthropological sites in the world. A steep-sided ravine in the Great Rift is about 48 km long. The British/Kenyan paleoanthropologist-archaeologist team Mary and Louis Leakey established and developed the excavation and research programs which achieved great advances of human knowledge and world-renowned status.
Homo habilis, probably the first early human species, occupied Olduvai Gorge approximately 1.9 mill. years ago; then came a contemporary australopithecine, Paranthropus boisei, 1.8 mill. years ago, then Homo erectus, 1.2 mill. years ago. Our species Homo sapiens, which is estimated to have emerged roughly 300,000 years ago, is dated to have occupied the site 17,000 years ago.
We expected to see a lot of animals on the Serengeti Plain, but did not expect to see thousands of Wildebeests (Gnu). They were all over, and when we stopped we heard the sounds of them.
It took us several hours to cross the flat plain to reach our lodge near the park headquarter.
We reached our lodge in the afternoon, and after checking into our room we walked up to the top of the kopje and enjoyed the view and quietness.
There were several hyraxes around, and some were quite tame and walked around our feet begging for food. There were also mongoose in the area, but no tame.
At sunset we had drinks on the terrace, and while listening to our guide's summary of the day's events we watched animals passing among the trees below us. 
March 2006:

Game Drives

in Serengeti + Back to Ngorongoro
We had our first game drive before breakfast, another before lunch, and drove to a hippo pool in the afternoon. Next morning we headed back towards the Ngorongoro crater watching animals as we passed them.
Outside the national park's boundaries we took off from the road and followed tracks among the animals. After stopping to watch a few lions we continued less than a kilometer and had a picnic eating out of our lunch boxes.
We arrived at our Ngorongoro Wildlife Lodge in late afternoon.
After dinner we watched a fantastic acrobat show in the lodge. 
March 2006: Game Drive in

Ngorongoro
We started from our lodge before sunrise and headed down a bumpy road into the crater. There we drove around to different locations and spotted different animals. 
We had our picnic lunch at a small lake, hiding in our cars because of birds of prey trying to steal our lunch. We saw at least one tourist who almost got his had ripped off when an eagle snatched his food.
On our way back we passed quite close to some elephants that were being scared of thunder.
March 2006: Bushwalk and Lunch at Coffee Plantation
On our way south toward the Tarangire national park we stopped for lunch at a coffee plantation. After a presentation of coffee production we headed up in the bush. It was really muddy after the rain, and our shoes got clogged with mud. 
We stopped at the top of a waterfall, and nearby we were shown a place where animals come to eat mineral rich earth to keep healthy.
Our safari's last national park. Also a nice place, but we were tired after long hours on the road and longed for a bath in the promised swimming pool. In our car we voted for driving straight to the lodge, and were lucky to see more animals than the others who had a game drive before coming to the lodge.
It was good to have a swim and relax by the pool before dinner.
Next morning we headed back to Arusha to fly to
Zanzibar
for a week in the sun before returning to winter in Norway.