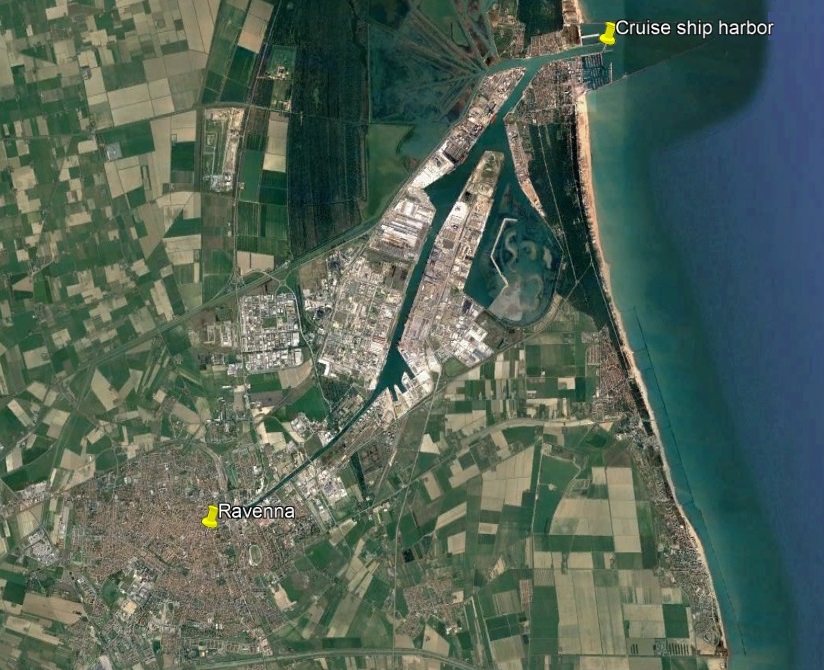 Ravenna is the capital city of the Province of Ravenna in the Northern part of the Adriatic, with a population of about 160,000.
It was the capital city of the Western Roman Empire from 402 until that empire collapsed in 476. It then served as the capital of the Ostrogothic Kingdom until it was re-conquered in 540 by the Byzantine Empire. Afterwards, the city formed the center of the Byzantine Exarchate of Ravenna until the invasion of the Lombards in 751, after which it became the seat of the Kingdom of the Lombards.
It is known for its well-preserved late Roman and Byzantine architecture, and has 8 UNESCO World Heritage Sites.
Although it is an inland city, Ravenna is connected to the Adriatic Sea by the Candiano Canal. This means that arriving by cruise ship you have to take a bus or taxi from the harbor to get into Ravenna. It is too far to walk.
Ravenna and cruise ship, June 2011
June 23 was a really hot day, and arriving in the city we skipped the museum because of long queues and settled for ice-cream and coffee in a street-side restaurant were we could watch people from the shade.
We returned early to our cruise ship and enjoyed the pool instead. In the evening there was the usual entertainment in the grand gallery. We departed during our dinner for a night cruise to Dubrovnik in Croatia.