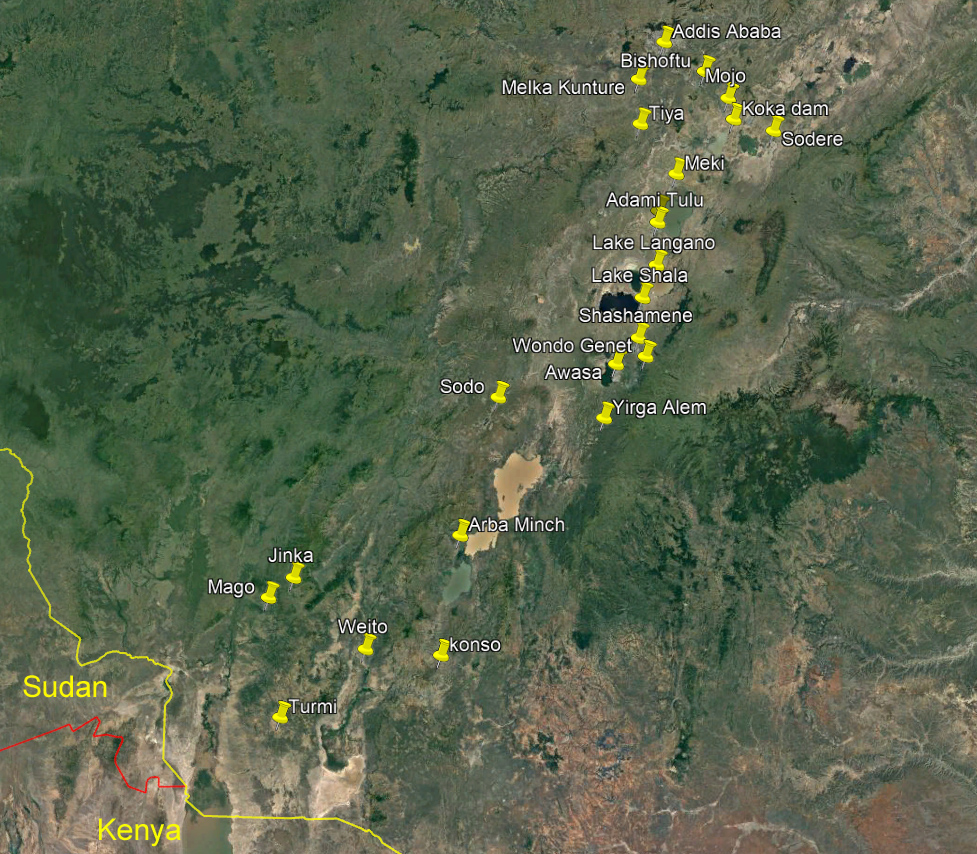 The Rift Valley divides Ethiopia and continues into Kenya. Addis Ababa is located on a plateau near the escarpment. Several lakes are found along the valley floor, and the water varies in salinity and color depending on the minerals in the area. 
When we lived in Ethiopia 1963-67 we often visited lakes for swimming and camping: Bishoftu, Langano and Shala. 
Sundays we often drove to the Koka dam and Awash river for picnic, or to Sodere/Awash or Ambo for swimming in water from hot springs.
On a group tour in 2002 we drove all the way down to Mago National park and slept in tents in Mago Turmi and Konso.
In 2008 I drove with a taxi driver friend down to the Awassa area, stopping overnight in several places. 
The following video-clips are extracted from my full movie, and usually texted in Norwegian.
Camping at Lake Langano, December 1964
Especially during the rainy season it was a relief to get out of Addis Ababa and drive down to Lake Langano to spend some days in the sun. We usually stayed at the camping site next to the Bekele Molla hotel.
We were regularly visited by local people who were curious about us foreigners. At that time they were dressed in skins and wore colored beads and other jewelry.
We often used canned food, and the empty tins were very popular among the women. Sometimes we traded these against their colored beads. The tins they could use for cooking and as ladles.
Sunday trip to Sodere, Butterflies and Birds, October 1965
Another popular place for a relaxing Sunday was the Sodere hot springs. 
On this occasion we drove through the usual recreation area, and had a picnic along the Awash river. My father had an interest in butterflies and had made nets to catch them, so we boys ran around after the many butterflies. 
I had got a small bb-gun to my 10th birthday, and I shot a few birds that we brought to the Swede Polstrand for preparation and stuffing. I still have them.
Camping at Lake Shala, April 1966
Lake Shala was also a popular place to visit. This salt/soda lake was difficult to access by a long and difficult dirt track. When reaching the lake we had to drive carefully across a plain that was said to have spots with quicksand. then we had to cross a small river to get to our camping site. 
This year the other cars got across, but ours got stuck in the river. We managed to get out by placing the jack on a frying pan to get the wheel out of the sand, and using another car to tow us out. 
Following the river up in the forest there was a waterfall and lake where we could swim.
Addis Ababa to Arba minch, February 2002
After a traveling for a week in North Ethiopia, we returned to Addis Ababa where we stayed overnight. Next morning we were loaded into a medium sized bus, and headed south.
This is an area that we used to visit in the 1960th, and we looked forward to see what the area looked like after 35 years.
We hoped to have time to stopp at Lake Langano where we used to camp. This time we were driving all the way down to Mago National Park near the borders to Sudan and Kenya.
Arba Minch to Weito, February 2002
After a warm night with lots of mosquitos in a very simple hotel near Arba Minch, we moved over to 4-wheel drives. Two Landcruisers for guests, and one Land Rover for support. 
We stopped in Konsso for a coffee brake, and we had a short walk in the streets of this village. From here there was only gravel roads. We crossed a plateau over to the Omo valley, and on the way we stopped at a village with Waka statues honoring the dead. We also had a quick stop at a small settlement before decending into the Omo valley.
We were warm and thirsty, and we were promised lunch very soon.
Coffee Ceremony and lunch, Weito, March 2002
During a very hot and dusty stop in Weito for lunch they had arranged for a coffee Ceremony. The coffee ceremony is an Ethiopian tradition where coffee is brewed in front of the guests – starting with roasting green coffee beans, and crushing the roasted beans. While waiting for the coffee to boil the woman adds incense to which gives a pleasant smell. 
The result is some of the best coffee you can imagine. The first serving is the best. Thereafter more water is added, and the second and third servings are somewhat weaker, but still taste fantastic.
I have had coffee served this way several times, and the result is the same.
Weito to Jinka, March 2002
After lunch we continued to the Town of Jinka. The road was bumpy and dusty, and we all longed for a rest in a hotel.
Arriving in Jinka we passed the airport – an open grassy plain with cows and goats feeding. We were accommodated in very basic rooms with a hard bed with hopefully clean sheets, and a bathroom with water running in a small stream across the floor from the toilet. 
We had Ethiopian "Injera and Watt" for dinner, and sat outside listening to Ethiopian music from the reception that also functioned as a local bar.
Safari and camping in Mago National Park, March 2002: 
Arba Minch – Jinka – Mago – Turmi – Weito – Arba Minch. 
This was the highlight of our tour. (Short version below). 
We started very early, and not long after entering the park we had problems with the suspension of one of the cars. Temporarily repaired we drove straight to a Mursi village to visit the tribe where women have clay plates in their lower lips. Before arriving we were handed a stack of 1-Birr notes each to pay for photos in the village. It was interesting to meet the Mursis, but not very fun to be asked for money all the time.
We were happy to leave the village behind when we headed for the Mago Park headquarters where the crew raised our tents. We even had a bath in a stream.ee s
Southern Ethiopia, March 2002
Short scenes from a dusty drive through the Mago National Park
We changed from bus to 4-wheel drive cars in Arba Minch, drove through Konso and Weito to Jinka where we spent a night in a very basic hotel. Next day we visited the Mursi people, and stayed overnight in tents in the Mago National Park Park Headquarters camping area. The day after we drove all the way down to Turmi. Thereafter back to Konso for our last night in tents before returning to Arba Minch.
We camped in small tents in areas without fences, drove through areas with no gas stations, on roads/tracks with few or no other cars, in older cars with several problems.
– A real adventure!
Arba Minch back to Addis Ababa, February 2002:
Arba Minch – Wondo Genet – Langano – Addis Ababa.
In Arba Minch we switched back to our more comfortable medium size bus, driving on asphalt roads again. 
We passed back through Shashamene, and turned south again to stay overnight at Wondo Genet near the hot springs. We looked forward to a bath, but the pool was closed for re-painting. Luckily there were showers with hot water directly from the spring.
On our way back to Addis Ababa we stopped for lunch at the Bekele Mola Hotel at Langano, a place where 4 of us had visited often in the 1960th. 
Daytrip to Melka Kunture, Addadi Maryam and Tiya, March 2008 
Melka Kunture is a Paleolithic site in the upper Awash Valley 50 kilometers south of Addis Ababa. Archaeologists have uncovered over 30 sites at Melka Kunture, one being about 1.7 million years old. A museum was built at the site, containing exhibits on prehistoric Africa, geology, paleoanthropology and prehistory of Melka Kunture.
Adadi Mariam is a rock-hewn monolithic church located approximately 66 km southwest of Addis Ababa, believed to have been built in the 12th century.
Tiya prehistoric burial complex. A UNESCO World Heritage Site with large stone pillars; 32 stelae are engraved with enigmatic symbols.
Debre Zeit Crater Lakes, March 2008
On our way south from Addis Ababa I just had to stop at lake "Bishoftu" (as we incorrectly called it in the 1960th). We managed to find a road leading down to the lake. 
I was surprised to see how overgrown the area had become. Tall Eucalyptus trees where there used to be none. 
The water level was also much higher than in the 1960th.
After visiting the lake where we used to swim we discovered the real Lake Bishoftu, which is in the largest crater. 
Sodere Hot Springs, March 2008
In the 1960th we used to drive down to Awash River, the Koka Dam and Sodere hot springs on Sundays. We children loved to swim in the hot water,
I was eager to visit the place again. After passing through the town Nazareth, now called Adama, we followed a newly opened road for a while before taking a smaller road down to Awash River and the hot springs. I recognized the place immediately after 31 years. I had booked hotel rooms in for me a new hotel complex near the "new" pool (built about 1966?). The water in the pool was really hot.
Next morning we walked along the Awash River and found a shower area where pipes poured hot water over the visitors.
Mojo to Langano North, March 2008
After visiting Sodere and passing through Nazareth, I wanted to drive across the Koka Dam and visit the Awash River location where we used to stop. Unfortunately the dam area was fenced, with no admittance without a pass, so we simply walked down to the lake to view the dam from there.
After turning south at Mojo we drove the long straight flat road down to Langano. I had booked a hotel at the north end of the lake, a place we never visited in the 1960th. It was quiet with not many visitors. We had a quick dip in the brown alkaline water (because of high fluoride contents).  It was nice to sit outside in the evening despite a strong wind.
Sunrise at Langano, March 2008
I got out of bed before sunrise and walked along the beach. Lots of different birds, and they were all singing and enjoying the cool morning.
Lake Shala, March 2008
I wanted to visit the place we used to camp in the 1960th. We stopped at the entrance to the Shalla-Abyata National Park to ask for directions. We were disappointed to hear that our car was not suited to drive such bad roads. We continued south on the main road, and then stopped by a man to ask if he knew a place where we could rent a donkey cart. He said yes, and drove with us down a small path to some houses. They were willing to help us, and after a while we were sitting on the hard deck of a cart without any suspension. The roads were really bad. I filmed on a few flat stretches.
We did not find the camping site, which was mush further north, but we found the hot springs I had heard about. After all the dust we longed for a bath in Langano.
Sabana Hotel (Beach Resort), Langano, March 2008
I had hoped to stay overnight at the Bekele Molla hotel where we used to camp in the 1960th, but it was fully booked. Further north on the western side there was a new hotel, and I was able to book a room there. 
The hotel was situated on top of a small cliff with a view over the lake. A path led down to the beach. I had a swim, but the brown (fluorite) water is not very tempting. 
The Ethiopian food was tasty, but not very surprising since that is what they know best.
Driving from Langano to Wondo Genet, March 2008
After staying overnight at Lake Langano, we followed the main road to Shashamene, and from there a gravel road up towards the hot springs at Wondo Genet. In the village of Wosha we took off from the main road and followed a smaller road up to the Wabe Shebelle Hotel. 
Wondo Genet, Hotel and hot springs, March 2008
This place was originally built by Haile Selassie for his daughter, Princess Tenagne Worq. The restaurant building is looks like an upside-down egg carton, but the garden is beautiful – full of birds and monkeys. Keep your door and windows closed to avoid monkeys coming in to steal whatever they find.
A short walk down from the hotel to a small valley you will find the hot springs. If you are not a guest at the hotel you will have to pay a few Birr to get in to the pool and recreation area. There is also a shower area where you can stand under a heavy flow of really hot water. In a small shop further up you can buy coffee.
Driving from Wondo Genet to Lake Awassa, March 2008
Text is coming …
Awassa Fish Market, March 2008
Tour to Yirga Alem from Awassa, March 2008