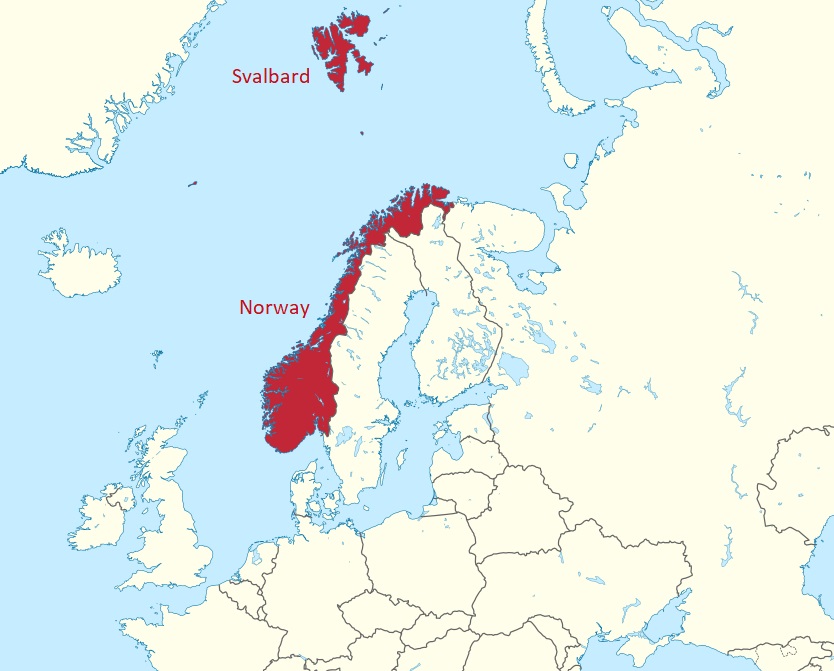 Svalbard, also known as Spitsbergen, is a Norwegian archipelago between mainland Norway and the North Pole in the Arctic Ocean. One of the world's northernmost inhabited areas, known for its rugged, remote terrain of glaciers and frozen tundra sheltering Polar bears, Svalbard reindeers and Arctic foxes. Approximately 60% of the archipelago is covered with glaciers, and the islands feature many mountains and fjords. The Northern Lights are visible during winter (24 hours of darkness), and summer brings the "midnight sun" (24 hours of daylight). The islands were first used as a base by the whalers who sailed far north in the 17th and 18th centuries, after which they were abandoned. Coal mining started at the beginning of the 20th century, and several permanent communities were established.
Research and tourism have become important supplementary industries, with the University Centre in Svalbard (UNIS) and the Svalbard Global Seed Vault playing critical roles in the economy. Apart from Longyearbyen, other settlements include the Russian mining community of Barentsburg, the research station of Ny-Ålesund, and others. No roads connect the settlements; snowmobiles, aircraft and boats are used for inter-settlement transport. Svalbard Airport, Longyear, serves as the main gateway.
The following videos have been edited from video-clips taken with a compact camera. Speech and texts are in Norwegian language. 
Longyearbyen, 25. November 2021
Arrival, beer tasting and dinner at Camp Barentz
We arrived at Svalbard Longyear Airport from Tromsø in Norway in strong winds and -15 deg.C. After a short drive by bus through dark and cold streets with little traffic we arrived at the Raddison Blue Polar Hotel. 
In the evening we dressed with thick winter clothing and walked down the street to the Svalbard Brevery for beer tasting.
Afterwards we were picked up by a bus and taken to a Camp Barentz, a cabin about 10 km outside Longyearbyen in ice bear terretory. Here we had dinner around a fire  with good soup and drinks.
Longyearbyen, 26. November 2021
Guided Tour in Coal Mine no.3
After a late breakfast we were picked up by a bus and taken up the mountainside above the airport to Coal Mine no. 3. It was cold and windy, but the view to the mountain and the hint of daylight on the horizon was beautiful. 
Before we were guided inside the cave we had a short introduction to coal mining. Boiler suits were handed out to everyone who wanted to crawl in the stalls, and helemets with lights to us all. Then we walked though the miners workshops and into the mine.
On our way back out we stopped at the entrance to the Arctic World Archive, which is located in a section of the mine.
Longyearbyen, 26. November 2021
Longyearbyen Sightseeing and Svalbard Museum
After our Coal Mine Tour we stopped for a lunch break at Kroa in the town center. 
An hour later we boarded our bus again and drove to the town limit to take photos of a Polar Bear Warning Sign. This is how far it is safe to walk without a gun. Thereafter we drove along the "harbor street" (main road) and up Skjæringa (map) to a viewpoint at the old church. We stopped to take photos of the panoramic view of Longyearbyen before we continued up the Valley through Nybyen, as far as the bus could go. We had hoped to see "Northern Lights", but being so far north we only saw a few small traces. 
We ended our tour at the Svalbard Museum. Afterwards we walked back to our hotel.
Longyearbyen, 27. November 2021
Ice Cave Tour to the
Longyear Glacier
Tour companies usually drive their guests up to the glacier with snow scooters or dog sleds, but because there was not enough snow we had to walk a few kilometers from the parking at the end of the road above Nybyen. It was cold and windy, but with enough clothing it was OK. Our guide carried a rifle for polar bear protection. First we visited a small cave, and further up a larger one. At one point we had to crawl through a short narrow passage to get into the main melt-water tunnel. It was beautiful in there. Not easy to film in darkness with a compact camera in ice cold wind, cold hands and 3 battery changes. On our way back to Longyearbyen the wind had increased, and some of the wind-gusts were quite strong.