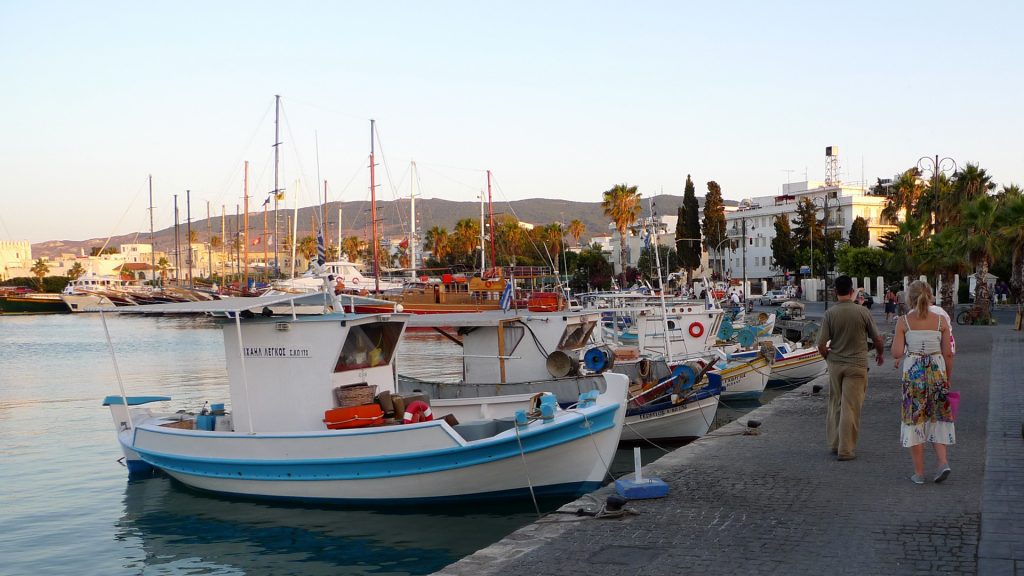 The island of Kos is the third largest Dodecanese island after Rhodes and Karpathos, measuring 40 by 8 kilometers, with a population of about 19,000. Tourism is the main industry in Kos, the island's beaches being the primary attraction.
Farming is the second principal occupation, with the main crops being grapes, almonds, figs, olives, and tomatoes, along with wheat and corn. Cos lettuce may be grown here, but the name is unrelated.
The Kos town is very popular for young people. Lots of partying. But there are other things to do like taking a boat to Kalymnos or other Greek islands. There are also boats crossing to Bodrum in Turkey which can be seen from Kos on clear days.
Arrival and Kos City, July 2009
The airport is located in the north part of Kos, and Kos town in the far south, so we had to take a bus. We checked in at our hotel where we got a spacious 2-room apartment.
After lunch we went to the nearby beach for a swim and suntan, and immediately we noticed that Kos was a 'party island' for young tourists.
In the evening we walked down the street to the harbour area, passing all the charter boats, and then up through the pedestrian street between lots of tourist shops. A number of bars and nightclubs forming the "bar street".  We had our dinner in a rooftop restaurant at the top of the pedestrian street.
One day I took the local bus up to the mountain village of Zia to walk up to the top of the Dikeos Mountain at 846 meters – the highest mountain on the island. It was a very warm day, and the climbing was tough, but I was rewarded with a magnificent view of the island and a cooling breeze. 
Arriving back in Zia I stopped at the first restaurant and ordered two bottles of water which I emptied in a few minutes. 
We rented a car to explore the island, and our first stop was in the south-west part of the island where the map said 'hot spring'. We followed a path around some cliffs, and there we found a seaside pool filled by water from the spring.
We entered the pool which was lunkwarm, but when we could not get too close to springs outlet because it was too hot.
Boat Tour to

K

alymnos

Island, July 2009
Being on a Greek island we had to take boat rides. We had two trips to Bodrum in Turkey (see videos in my Bodrum page), and this one to Kalymnos. 
There were several charter boats too choose from, and we ended up with one with the name of my daughter's current boyfriend Michael.
We had a nice and quiet voyage to Kalymnos, and after swimming in crystal clear water in a bay we had grilled fish and Greek dishes for lunch.
On the way back we stopped at Pserimos island.