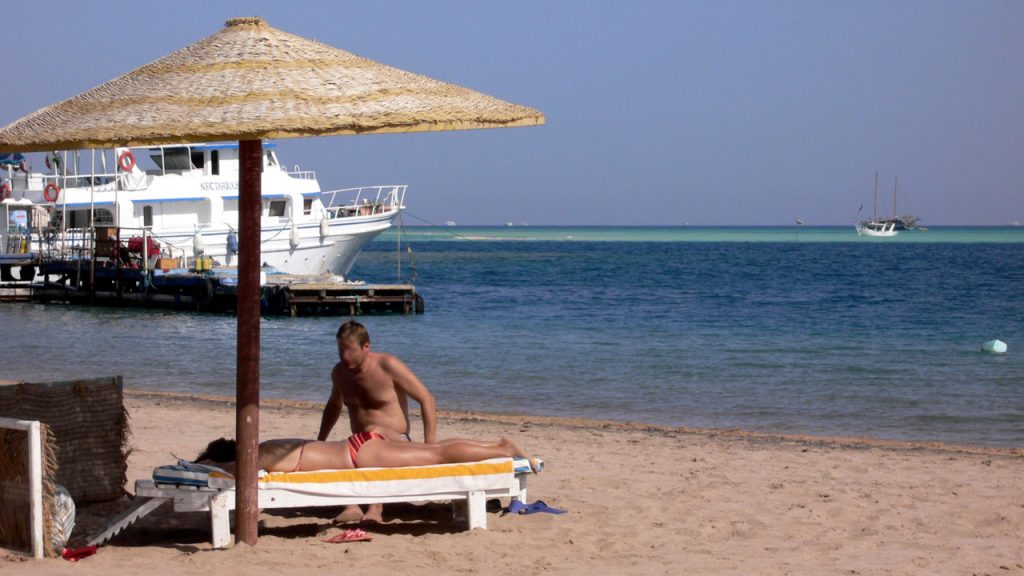 Hurghada by the Red Sea
In 2005 we celebrated my 50th anniversary, and I got a tour to Egypt as a birthday present. We stayed in Hurghada by the coast, and took a 3-day tour to Cairo to see the pyramids and other sights.
In Hurghada we visited the city, joined a diving boat to have two dives on the reef outside Hurghada, and had a slow glass-bottom boat tour over the reef outside the hotel.
2005-02 – Magawish Village Hotel
Magawish Village Hotel is located in Villages Road district about 7 kilometers from the airport. (FB) 
2005-02 – Evening tour to Hurghada City
We took the hotel's minibus to the Hurghada city center and walked along the main street.
Hurghada was founded in the early 20th century, and until recently it was a small fishing village,but since the 1980 it has been continually enlarged by Egyptian and foreign investors to become the leading coastal resort on the Red Sea. Hurghada stretches for about 36 kilometres (22 mi) along the seashore, and it does not reach far into the surrounding desert. Today Hurghada counts 248,000 inhabitants.
2005-02 – Diving on a reef outside Hurghada
Dive sites are found around Abu Ramada Island, Fanadir, Giftun Kebir, and Giftun Soraya. There are shipwrecks in the area such as the El Mina or the Rosalie Moller.
We booked a tour with dives from the dive center at the Magawish Hotel. 
2005-02 – Take-off from Hurghada Airport
Hurghada International Airport is located inland, 5 km southwest of El Dahar, the downtown of Hurghada. It is the second busiest airport in Egypt after Cairo International Airport and an important destination for leisure flights mainly from Europe.