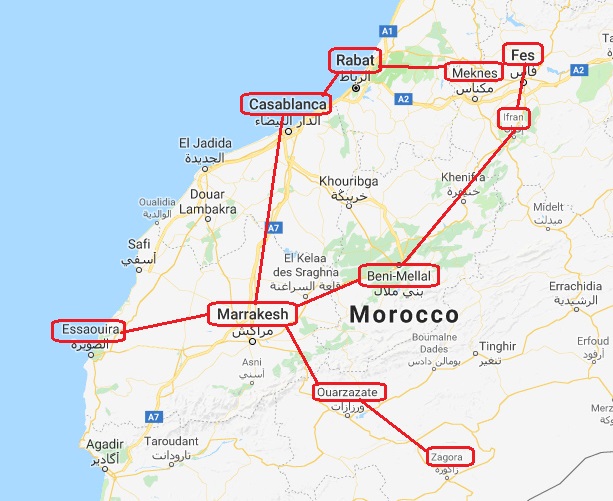 The Kingdom of Morocco 446,550 km2 has a population of about 37 million. Its capital is Rabat, and the largest city is Casablanca. Since 788 the country has been ruled by a series of independent dynasties. They struggled against foreign domination, and remained the only North African country to avoid Ottoman occupation. In 1912 it was divided into French and Spanish protectorates with an international zone in Tangier, but regained its independence in 1956. Moroccan culture is a blend of Berber, Arab, West African, and European influences. 
Morocco has borders to the Atlantic Ocean and the Mediterranean, to Spain in the north (Strait of Gibraltar), Algeria to the east, and Western Sahara to the south. A large part of Morocco is mountainous, basically with the Atlas Mountains in the center and the south, and the Rif Mountains in the north. Both ranges are mainly inhabited by the Berber people. At higher elevations, the climate becomes alpine in character, and can sustain ski resorts. Most of the population lives to the north of the mountains. The south-east part of Morocco is very hot, and includes portions of the Sahara Desert, where vast swathes of sand dunes and rocky plains are dotted with lush oasis.
My camera: Sony RX100V compact camera on stabilizer
Old Town in

Fez


Morocco, November 2017
Fez has one of the most interesting

Medina

and

Bazar/Souk

in Morocco. No motorbikes or cars are allowed – in contrast to

Marrakesh

where you have to watch out for speeding motorbikes.
We visited a "typical" Moroccan house where we were served mint tea brewed the traditional way.
Volubilis

– Ancient Roman City
Morocco, November 2017
Volubilis is a partly excavated Roman city near the city of Meknes. Built from the 3rd century BC onward as a Berber and Phoenician-Carthaginian settlement. From the 1st century AD it expanded rapidly under Roman to cover about 42 hectares (100 acres) with a 2.6 km (1.6 mi) circuit of walls. 
Around 285 AD the city fell to local tribes and was never retaken by Rome because of its remoteness on the south-western border of the Roman Empire. It continued to be inhabited for at least another 700 year. The ruins remained substantially intact until it was devastated by an earthquake in the mid-18th century. Today it is a UNESCO World Heritage Site.
Meknes

Bab Mansour Gate El Hedime Square
Morocco, November 2017
Meknes is one of the four Imperial cities of Morocco, located in northern central Morocco, and the sixth largest city. Founded in the 11th century as a military settlement, Meknes became capital of Morocco under the reign of Sultan Moulay Ismail (1672–1727). He turned Meknes into an impressive city in Spanish-Moorish style, surrounded by high walls with great doors, where the harmonious blending of the Islamic and European styles of the 17th century Maghreb are still evident today. 
We stopped at the El Hedime square to see the Bab Mansour gate. We walked in the square, and had a cup of coffee at a roof-top restaurant with a view of the square at sunset.
Marrakesh –

Jardin Majorelle


Morocco, November 2017
Behind high earthen walls the French painter Jacques Majorelle (1886-1962) spent 40 years to create a garden in the heart of Marrakesh. This garden is full of trees, rustling of leaves and the song of birds, exotic plants and pools filled with water lilies and lotus flowers. There are paths in between leading to an intense blue Moorish building decorated with other primary colors. This place is a calming retreat from the bustling city around.
Jardin Majorelle is now owned by the Fondation Pierre Bergé – Yves Saint Laurent in Paris, and has included a collection of Majorelle's paintings and a Berber Museum.
Marrakesh

by Horse Cart to the Medina
Morocco, November 2017
After a good lunch at a Moroccan restaurant our next stop was the Medina. Instead of taking the bus we were driven by horse carts through the streets. Some main streets, and some narrow shopping streets. This was a nice way to arrive at the Jemaa el-Fnaa square, which is a good place to start and end a tour of the Medina/Souks.
Marrakesh

Medina/Souk
Morocco, November 2017
A souk is the name given to an Arab market. traditionally an open-air market that locals relied on for their essential items. Marrakech's is located strategically at the heart in the center of Morocco and the trading routes network from all over Morocco and surrounding countries. Merchants often travelled by camel or donkey, usually with a heavily laden caravan. The medina has many large gates opened early in the morning and closed every evening. The trading action took place at Djemaa el-Fna, the city's large square. As the local population grew, vendors started to hold smaller souks close to main communities, using donkeys, camels and carts to navigate the labyrinth-like streets of the medina.
Marrakesh to Essaouira – Argan Oil Factory and Shop
Morocco, November 2017
During a 2-week tour to Morocco, we booked a day-
tour to Essaouira on the coast.  On the way we stopped at an Argan oil factory to see how the made the oil.
Argan oil is plant oil produced from the kernels of the Argan tree (Argania spinosa L.) that is endemic to Morocco. In Morocco, argan oil is used to dip bread in at breakfast or to drizzle on couscous or pasta. It is also used for cosmetic purposes.
The Town of

Essaouira


Morocco, November 2017
During a 2-week tour to Morocco, we booked a day-tour from Marrakesh to Essaouira on the coast. Many celebrities has stayed in this famous beach resort. The town is relatively clean and has fresh air from the Atlantic Ocean. After walking through the harbor area we had lunch in a small restaurant, and thereafter we walked in the streets for a couple of hours. 

The famous Norwegian Torbjørn Egner got his inspiration to "Kardemomme by" from this place.
Chez Ali Restaurant is not only a restaurant, but very large compound with a riding arena and several buildings, including an Ali Baba cave. A large number of tourists come to see the traditional Moroccan horse show. They are first served Moroccan food in different tent-like buildings, with some entertainment by musicians and belly dancers. Thereafter they go outside to the arena to watch processions and a horse show. Especially fascinating is the tradition of racing the horses and shooting with rifles in the air.
Marrakesh to Zagora – Stopping at Ait Ben Haddou
Morocco, November 2017
During a 2-week tour to Morocco, we booked a 2-day Zagora Sahara tour. We started early morning from Marrakesh, had a lunch stop in Ait Ben Haddou before continuing to Zagora. 
Ait Ben Haddou is a historic fortified village along the former caravan route between the Sahara and Marrakech. It is considered a great example of Moroccan earthen clay architecture and has been a UNESCO World Heritage Site since 1987. The site has been fortified since the 11th century during the Almoravid period. None of the current buildings are believed to date from before the 17th century, but they were likely built with the same construction methods and designs as had been used for centuries before
Bedouin Camp in Sahara
Zagora, Morocco, November 2017
We arrived in the Zagora area before sunset. There were camels (dromedary) waiting for us. After half an hour ride we reached the "primitive" Bedouin camp where we stayed overnight.
After the round-trip to the major cities in the north, which felt more like being in Turkey – not in Africa, we finally had the feeling we were in Morocco!
Next morning we climbed the nearest hill to watch sunrise over the sand dunes. After breakfast we rode our camels back to the waiting bus. 
Zagora to Marrakesh – stopping at

Zagora

and

Ouarzazate


Morocco, November 2017
On our way back from the desert we had a short stop in an antique shop in Zagora. Then continued to
Ouarzazate
to visit a restored fort and a film museum. There are several large
film studios
in the area used by international film makers. Many famous movies were filmed there, like
Lawrence of Arabia
, James Bond
The Living Daylights
,
The Mummy
,
Gladiator
,
and
the TV series
Game of Thrones
.
We stopped for lunch in the same restaurant in Ait Ben Haddou on our way back.
Marrakesh

Medina/Souk
Morocco, November 2017
On one of our last days in Morocco we took the hotel bus to the Medina for some Christmas shopping in the souks. We crisscrossed through the narrow streets, visiting several shops and haggled for good prices. Being a warm day it was nice to stop in a rooftop restaurant for refreshments.
After more shopping we stopped for lunch in a typical Moroccan courtyard restaurant – Le Jardin – where we met some friends. It was dusk when we left the Medina for the hotel bus.