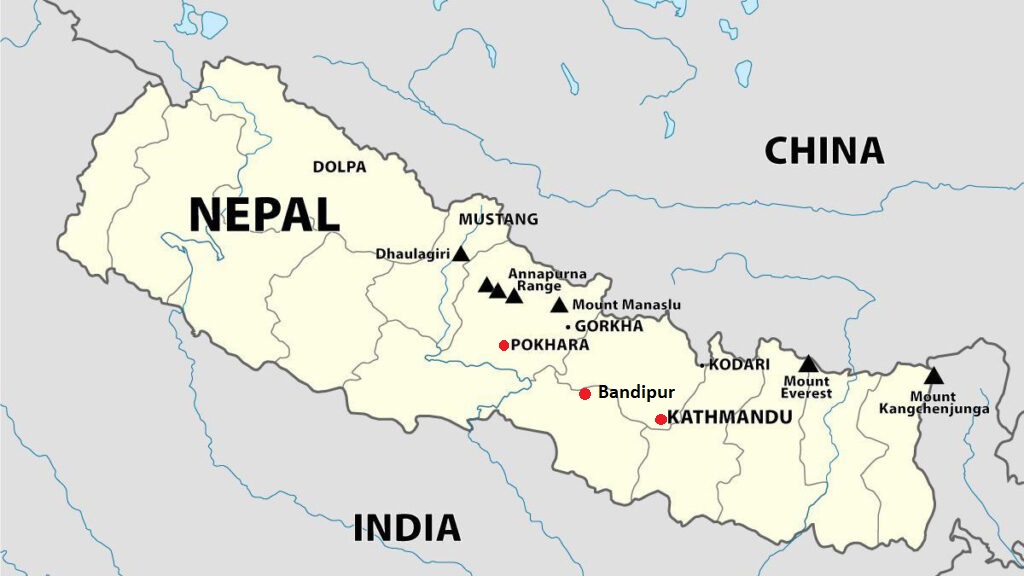 The Federal Democratic Republic of Nepal is a landlocked Himalayan state sandwiched between India to the west, south and east, and China to the north. Nepal was a monarchy, but in 2006 the king lost most of his traditional power. Ten of the world's 16 highest mountains lie along the border in the north. Mount Everest, locally known as Sagarmatha, is located on the border between Nepal and China. Nepal is famous for its wild and beautiful nature, many valuable ancient monuments (especially in the Kathmandu Valley), and a very diverse population that speaks over 100 languages and has preserved much of its ancient and traditional culture. The country is among the poorest in the world. Nepal's official calendar is called Bikram Samwat in Nepali, and has important symbolic value both because it marks Nepal as a state with Hindu culture and emphasizes that Nepal is different from the rest of the world.
3-16.

October 2023: 14 days

t

our with Carpe Diem to Nepal and Bhutan

We flew into Kathmandu and visited the giant Boudhanath stupa before continuing to Bhutan next morning. After a week in Bhutan we returned to drive on bad roads straight to the mountain village of Bandipur. After a long walk and climb to visit the small village of Ramkot high up on a hill we continued to Pokhara where we stayed in a lake-side lodge. From a hilltop above Pokhara we saw the sunrise, and had a glimpse of the Annapurna mountain range through the clouds. We had sightseeing stops at the Bindhyabasini temple, visited a cave temple and a Tibetan refugee camp. We flew back to Kathmandu for sightseeing, and visited the old palace at Durbar Square, the Swayambhunath monkey temple, and had a glimpse of the holy Kumari girl. The last day before flying back to Norway was reserved for shopping.
Day 1-2: To

Kathmandu

+ sightseeing 
Our 'Himalaya tour' started with a 3 + 2 hours transit stop in Istanbul. We arrived Kathmandu in the morning and were met by our local guide. Our flight to Bhutan was scheduled to next morning, so after checking into the Nepali Ghar hotel, and a few hours rest, we had time for a sightseeing tour of the Boudhanath stupa – The Great Stupa. We visited a temple where two rows of monks chanted. Unfortunately no photos or video were allowed inside temples in Nepal and Bhutan! After circling the stupa we were bussed back through the 'interesting' Kathmandu traffic. After dinner we relaxed before getting a good night's sleep before heading for Bhutan.
(For day 3 to 7, see Bhutan page)
Day 8: From Bhutan to

Bandipur

in Nepal
Arriving in Kathmandu after a week in Bhutan we drove directly westwards to the town of Bandipur. With the highway being under construction it was very bumpy drive. After a lunch stop, and a walk across a long suspension bridge, the bus climbed steep winding roads up 700 meters to Bandipur – one of Nepal's most charming towns. Bandipur is a living museum of Newari culture, a beautifully preserved village crowning a lofty ridge, its main street lined with traditional row houses restored as cafes and lodges. We were boarded in the very interesting Gaun Gahr Hotel. The door to my room had a simple padlock, and in the bathroom I could only stand upright between the wooden beams in the low ceiling. Late afternoon we had a sightseeing walk around this relaxing town with no cars or traffic in the main street.
We hiked to the beautiful rural village of Ramkot, which is a popular destination about 2 hours walk (7 km) to the west of Bandipur, where we experienced the rural lifestyle of Nepal. The village is habituated by native Magar people, which are the successors of Mongols. The path mostly follows the hillside, except for a few steep slopes. The village is located on a mountain ridge, about 1000 meters above sea level, with magnificent view to both sides , which we did not see fully because of low clouds. The sun came out now and then, and it was relatively hot when we walked back to Bandipur.
Day 10: From Bandipur to

Pokhara

– "City of Lakes"
After breakfast in Bandipur we headed for Pokhara on the same roads being under construction most of the way. After a few breaks and lunch stop, we reached our Fish Tail Lodge – named after the 'Fish Tail' Mountain in the nearby Annapurna Range.
Pokhara is a metropolitan city in central Nepal, and is the second most populous city of Nepal after Kathmandu, with about a half million inhabitants, located 200 kilometers west of the capital. The city is on the shore of Phewa Lake, at an elevation of about 822m. The Annapurna Range, with three out of the ten highest peaks in the world is within 24–56 km of the valley. Pokhara is considered the tourism capital of Nepal, being a base for trekkers.
Day 11: Pokhara sightseeing
(video and text coming)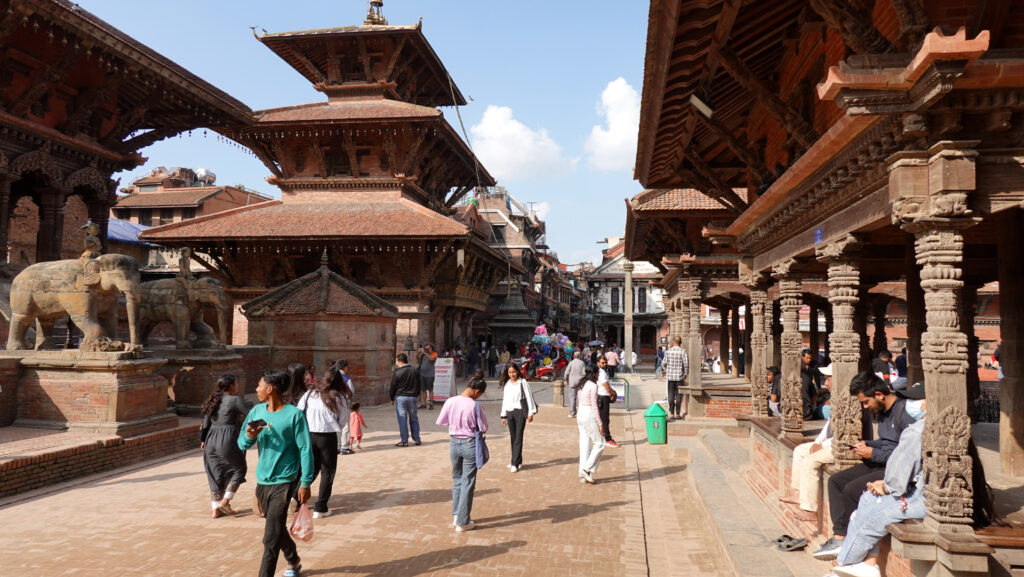 Day 12: Back to Kathmandu and sightseeing
(video and text coming)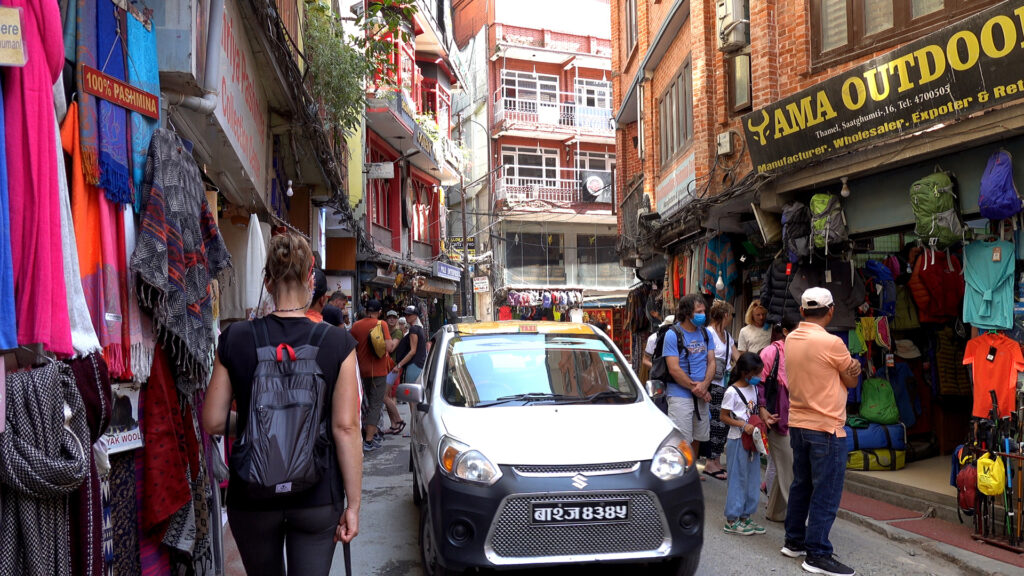 Days 13-14: Kathmandu – Last day shopping and homebound
(video and text coming)