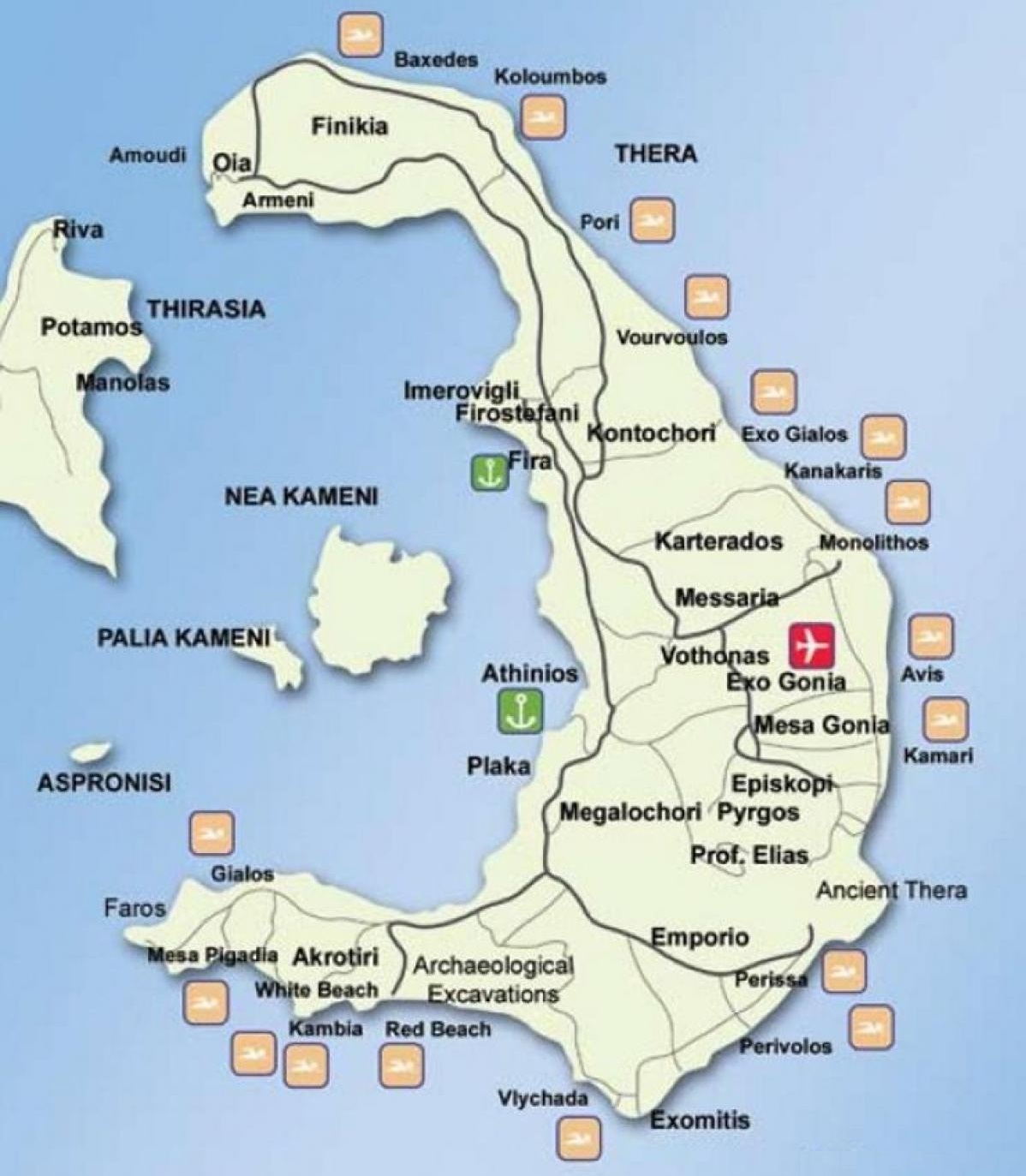 Santorini, officially Thira or Thera, is an island in the southern Aegean Sea, about 200 km southeast of Greece's mainland, and is the remnant of a volcanic caldera. The island was the site of one of the largest volcanic eruptions in recorded history: the Minoan eruption, which occurred about 3,600 years ago at the height of the Minoan civilization. The eruption left a large caldera surrounded by volcanic ash deposits hundreds of meters deep. It may have led indirectly to the collapse of the Minoan civilization on the island of Crete, 110 km to the south, through a gigantic tsunami. Another popular theory holds that the Thera eruption is the source of the legend of Atlantis. It is the most active volcanic center in the South Aegean Volcanic Arc, though what remains today is chiefly a water-filled caldera, but tourists visiting the volcanic island in the center can see fumes from the small crater and underwater flows near the island.
The capital of the island is Fira – a city of white-washed houses built on the edge of the 400 meters high caldera. Access to Fira is mainly by roads on its eastern side, by walking or riding a donkey from its port via the Z-shaped footpath, or by riding the steep cable car from its lower terminal by the port. The central square of Fira is called Plateia Theotokopoulou, with a bus and taxi station, banks, and pharmacies. From Fira there is a panoramic view of the 18 kilometers long caldera from southern Cape Akrotiri to Northern Cape Ag. Nikolaos, plus the volcanic island Nea Kameni at the center with Thirassia Island. Large cruise ships anchor in the small harbor between Nea Kameni and Fira.
July 2012 – Sailing into the crater
After our vacation on the island of Naxos we sailed back to the airport on Santorini. Sailing into the crater and seeing all the white houses on the crater rim is magnificent.
We docked at the main harbour where buses drove us up the steep winding road – not to the smaller pier where tourists may walk up to the town of Fira, as I did in 1980, or ride mules. There is also a new cablecar. 
July 2004 – One hour visit to Fira on our way to the airport.
Returning to the airport on Santorini after our first vacation on the island of Naxos, we had several hours to wait for check-in. Some of us decided to take a taxi to Fira to see this white town on the rim of the crater, and see the view of the caldera.