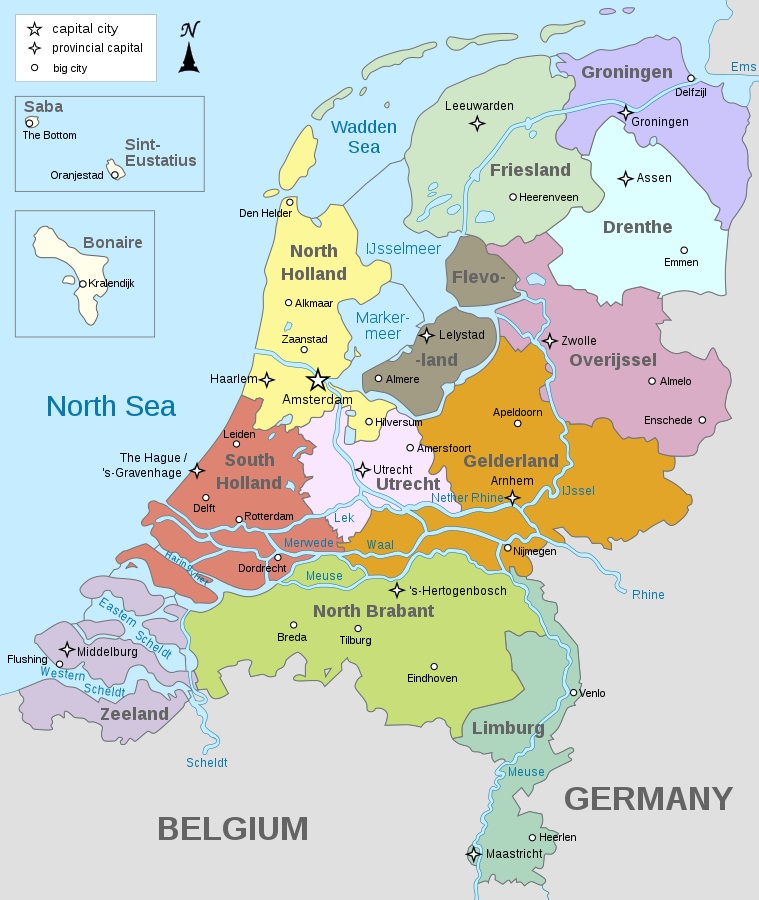 The Netherlands, informally Holland, is a charming small country in the low-lying river delta of northwestern Europe. Netherlands literally means "lower countries" in reference to its low elevation and flat topography, with only about 50% of its land exceeding 1 meter above sea level. Total area is 41,545 km2, including water bodies. Much of the land is reclaimed from the sea, and most of the areas below sea level are man-made.
Netherlands is dotted with windmills, blooming tulip fields and picturesque villages. With over 17 million people living in a relatively small area, this is a densely populated modern European country. Still, even the largest of its cities have retained a rather laid-back small-town atmosphere and many are packed with historic heritage.
This period also constituted a cultural peak that produced renowned painters like Rembrandt and Vermeer. Their works and many others fill the top-class Dutch museums that attract hundreds of thousands of visitors each year.
Amsterdam area has a population of about 1.1 mill. Amsterdam is colloquially referred to as the "Venice of the North", attributed by the large number of canals. Originating as a small fishing village in the late 12th century, Amsterdam became one of the most important ports in the world during the Dutch Golden Age of the 17th century.
Amsterdam's main attractions include its historic canals, the Rijksmuseum, the Van Gogh Museum, the Stedelijk Museum, Hermitage Amsterdam, the Concertgebouw, the Anne Frank House, the Scheepvaartmuseum, the Amsterdam Museum, the Heineken Experience, the Royal Palace of Amsterdam, Natura Artis Magistra, Hortus Botanicus Amsterdam, NEMO, the red-light district and many cannabis coffee shops. It drew more than 5 million international visitors in 2014.
A few short videos from Amsterdam and it's Zoo & Aquarium – on our way to/from a road trip to paris in July 2001: