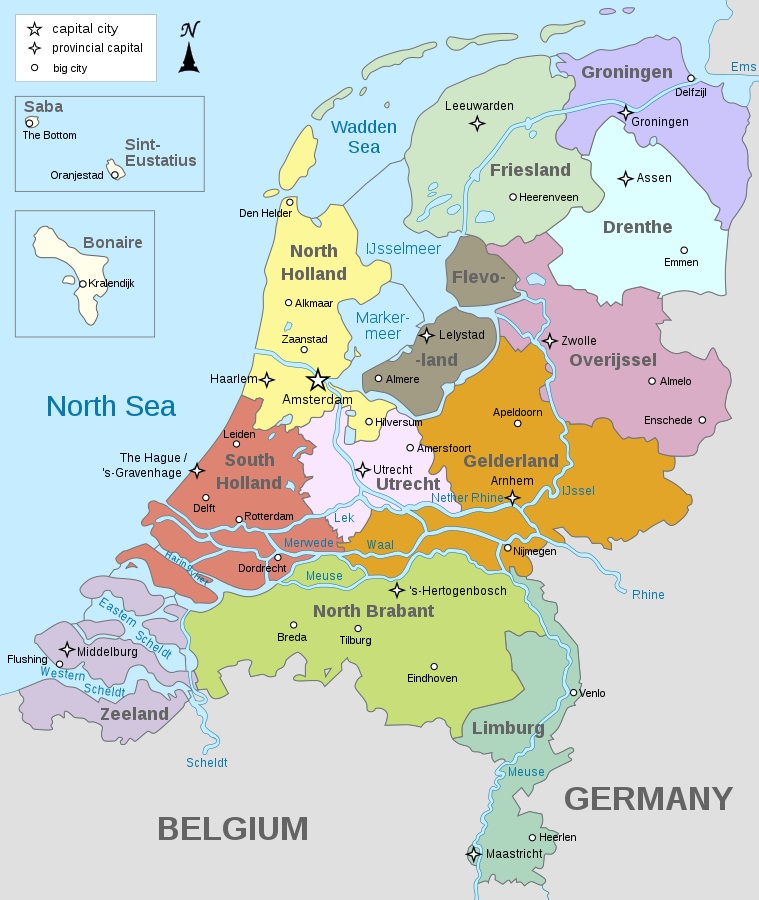 The Netherlands, informally Holland, consists of 12 provinces that border Germany to the east, Belgium to the south, and with maritime borders in the North Sea with to the United Kingdom. The country's official language is Dutch. The four largest cities in the Netherlands are Amsterdam, Rotterdam, The Hague and Utrecht. Amsterdam is the country's most populous city and nominal capital, while The Hague holds the seat of the States General, Cabinet and Supreme Court.
Netherlands literally means "lower countries" in reference to its low elevation and flat topography, with only about 50% of its land exceeding 1 metre above sea level, and nearly 17% falling below sea level. Most of the areas below sea level are the result of land reclamation that began in the 16th century. With a population of about 17 million people, all living within a total area of roughly 41,800 square kilometres of which the land area is 33,500 square kilometres. The Netherlands is the 12th most densely populated country in the world and the 2nd most densely populated country in the European Union, with a density of 521 per square kilometre.
Amsterdam, July 2001
Amsterdam area has a population of about 1.1 mill. Amsterdam is colloquially referred to as the "Venice of the North", attributed by the large number of canals. Originating as a small fishing village in the late 12th century, Amsterdam became one of the most important ports in the world during the Dutch Golden Age of the 17th century.
Amsterdam's main attractions include its historic canals, the Rijksmuseum, the Van Gogh Museum, the Stedelijk Museum, Hermitage Amsterdam, the Concertgebouw, the Anne Frank House, the Scheepvaartmuseum, the Amsterdam Museum, the Heineken Experience, the Royal Palace of Amsterdam, Natura Artis Magistra, Hortus Botanicus Amsterdam, NEMO, the red-light district and many cannabis coffee shops. It drew more than 5 million international visitors in 2014.