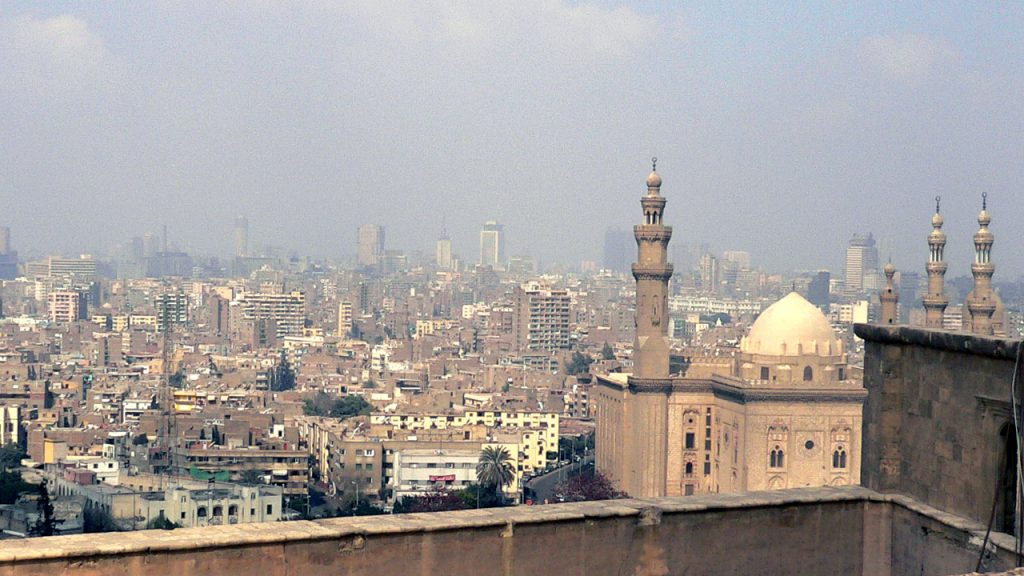 Cairo
Cairo is a large dusty city of about 10 million people. The city's metropolitan area is one of the largest in Africa. Located near the Nile Delta, modern Cairo was founded in 969 AD by the Fatimid dynasty, but the land composing the present-day city was the site of ancient national capitals whose remnants remain visible in parts of Old Cairo. Cairo has long been a center of the region's political and cultural life, and is titled "the city of a thousand minarets" for its preponderance of Islamic architecture. 
1966-05 – Cairo
We stopped a few days in Cairo in May 1966 on our way from Addis Ababa to Oslo for a summer vacation during our 4 years in Ethiopia. We stayed in a quite central hotel, and had a local guide to drive us to the famous sites: Giza pyramids and Sphinx, the Cairo zoo, the bazars, and the museum to see Tutankhamun's treasures.
I was 11 years old at that time (sitting behind my brother in this photo). It was allowed to climb the pyramids, but we did not have time for that. Instead we had a long lunch at our guides house – very boring for us children – and a dip in the pool at Mena House.
2005-02 – By bus from Hurghada to Cairo
Because of attacks on tourist buses the past years, all the tourist buses going to Cairo met at a breakfast stop. From there we drove in convoy with police protection.
It was a very long drive, and we were glad we had booked a 3-day tour instead of driving back the next evening.
2005-02 – Cairo – Citadel and mosque
Our first stop was a the Citadel to see the Muhammad Ali's alabaster mosque. 
The Citadel is a fortified enclosure begun by 
Salah al-Din

 in 1176 AD on an outcrop of the 
Muqattam Hills
 as part of a large defensive system to protect both Cairo to the north and 
Fustat
 to the southwest.
 It was the center of Egyptian government and residence of its rulers until 1874, when Khedive Isma'il
 moved to 
'Abdin Palace
.
 It is still occupied by the military today, but is now open as a tourist attraction comprising, notably, the 
National Military Museum

, the 14th century 
Mosque of al-Nasir Muhammad
, and the 19th century 
Mosque of Muhammad Ali
 which commands a dominant position on Cairo's skyline.
2005-02 – Old Christian Churches in Cairo
2005-02 – Lunch on a Nile River-boat
We stopped by the Nile and walked to a riverboat – a floating restaurant – where we had a buffet lunch. Have heard much about people getting food poisoning we were careful with what we ate. Not fun to have diarrhea on the long drive back to Hurghada!
2005-02 – Cairo Marriott Hotel
2005-02 – Evening tour by taxi to Giza
2005-02 – Sakkara Pyramides
2005-02 – Papyrus Factory and Shop
2005-02 – Cairo National Museum