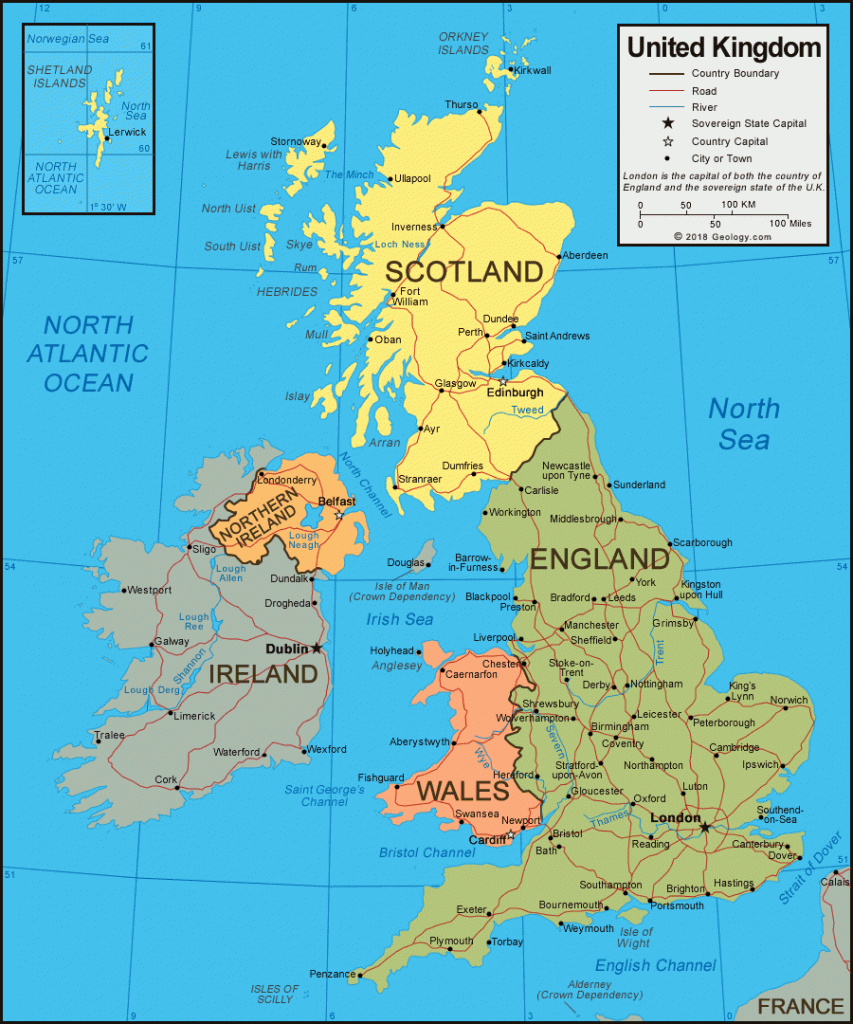 The United Kingdom consists of four constituent countries: England, Scotland, Wales, and Northern Ireland. Their capitals are London, Edinburgh, Cardiff, and Belfast, respectively. Apart from England, the countries have their own devolved governments, each with varying powers, but such power is delegated by the Parliament of the United Kingdom, which may enact laws unilaterally altering or abolishing devolution. The nearby Isle of Man, Bailiwick of Guernsey and Bailiwick of Jersey are not part of the UK, being Crown dependencies with the British Government responsible for defence and international representation.  
England includes the central and southern two-thirds of the island of Great Britain, plus such offshore islands as the Isle of Wight and the Isles of Scilly. It is bordered by two other countries of the United Kingdom;  Scotland and Wales.
Most of England's landscape consists of low hills and plains, with upland and mountainous terrain in the north and west of the country. The northern uplands include the Pennines, a chain of uplands dividing east and west, the Lake District mountains in Cumbria, and the Cheviot Hills, straddling the border between England and Scotland. The highest point in England, at 978 metres.
England has a temperate maritime climate: it is mild with temperatures not much lower than 0 °C in winter and not much higher than 32 °C in summer. The weather is damp relatively frequently and is changeable. The coldest months are January and February, the latter particularly on the English coast, while July is normally the warmest month. Months with mild to warm weather are May, June, September and October. Rainfall is spread fairly evenly throughout the year.