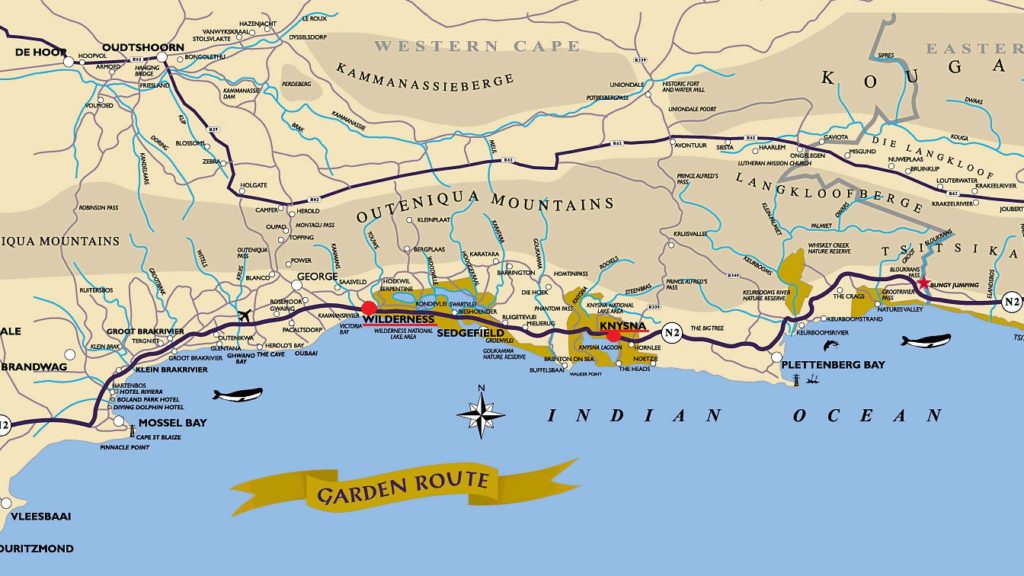 Garden Route is mainly the 300 km coastline between Mossel Bay and Plettenberg Bay, about 4 hours driving eastwards from Cape Town.
We visited Knysna on our 2019 South Africa tour, staying in Wilderness and taking a day-tour into Knysna.
Wilderness is a seaside town on the Garden Route of the southern Cape in South Africa. It is situated a short distance east from the city of George, on the N2 down the Kaaiman's River Pass. It is known for its long white sand beach and lagoons. The town caters mostly to holiday-makers and is situated directly on the Touw River Lagoon. The town experiences an extremely mild climate, typical of the Garden Route and has little temperature variation, seldom dropping below 10 °C and above 28 °C, with year-round rainfall. The flora type is Afromontane gallery forest.
We stayed 2 nights in the Wilderness Hotel in connection with a visit to Knysna.
Knysna 

– December 2019
Knysna (ˈnaɪznə') is a town with 86000 inhabitants in the Western Cape Province of South Africa and is part of the Garden Route. The first Europeans arrived in the area in 1760. The town is primarily built on the northern shore of a large warm-water estuary, known as the Knysna Lagoon, which is fed by the Knysna River. The estuary opens to the ocean after passing between two large headlands, which have become infamous due to the loss of boats and fishermen passing through their treacherous and unpredictable waters. To the north of Knysna a temperate rain forest covers the hilly terrain for 20 km. The eastern head is heavily developed, while the western head is a private nature reserve.